S&P downgrades N.J. credit rating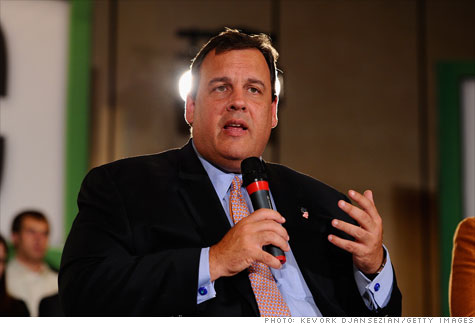 NEW YORK (CNNMoney) -- Standard & Poor's lowered its credit rating on New Jersey's debt to AA- from AA, citing concerns about its massive retirement obligations.
"The lower rating reflects our concern regarding the stresses from the state's poorly funded pension system, substantial post-employment benefit obligations, and above-average debt levels," said Standard & Poor's Credit Analyst Jeffrey Panger.
The state has nearly $33 billion in debt, among the highest in the nation, according to S&P, which rates the state's outlook as stable because it believes it will "continue to manage its structural budget imbalances proactively."
New Jersey has long skimped on funding its pension, leaving it with a current unfunded liability of $54 billion.
Gov. Chris Christie, who took office in 2010, has taken an aggressive approach to handling the Garden State's financial problems. He closed a fiscal 2011 deficit of $11 billion, which was equal to 37% of the budget, by deeply cutting spending and suspending a property tax rebate. He also deferred $3.1 billion in pension funding.
The state faces a budget gap of $10.5 billion for fiscal 2012, which starts July 1, according to the Center on Budget and Policy Priorities. The governor is expected to release his budget in coming weeks.
Responding to the S&P downgrade, Christie called on lawmakers to overhaul the state's retirement system. He wants to raise the retirement age, require workers to contribute to their pensions and curb the annual cost-of-living increases that retirees receive.
"Governor Christie's pension and benefit reforms are necessary to manage the state's pension liability and ensure long-term stability," said Press Secretary Michael Drewniak in a statement responding to the downgrade.