Obama's budget: What cuts are on the table?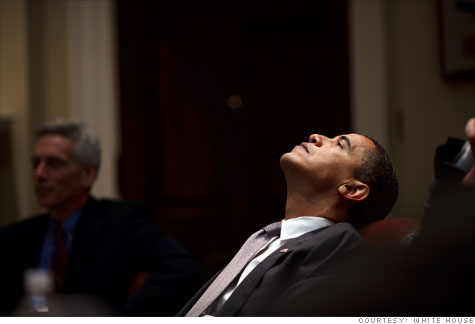 NEW YORK (CNNMoney) -- President Obama will release his proposed budget in less than a week, and clues are starting to surface about what programs will be sacrificed to the gods of deficit reduction.
One thing is for sure: There will be cuts. Both Washington politics and the national mood demand as much. The national debt stands at $14 trillion, and both parties say that number needs to fall.
In his State of the Union address last month, Obama said he would propose a five-year freeze on non-security discretionary spending -- a small part of the budget, but nonetheless responsible for many popular government activities such as food safety and national parks.
Obama's freeze would save $400 billion over 10 years, but it would not cap spending across the board. In fact, the administration has said it wants to increase programs it sees as critical to economic growth, even as it cuts others.
To get the ball rolling, the administration has already named the first three proposed cuts.
Obama's budget will propose slashing a quarter of the government's funding for the Great Lakes Restoration Initiative -- a move that will save $125 million.
It will also call for scaling back a community service grant program, and for cuts to a community development program that funds projects like housing, sewers and streets, and economic development. The two reductions will save around $650 million.
A spokeswoman for the White House's Office and Management and Budget, which prepares the budget, wouldn't confirm any specific cuts the administration would propose.
But one place Obama is looking are parts of the government he considers bloated or inefficient.
Speaking on Monday to the business leaders, Obama said he was working to "merge, consolidate and reorganize the federal government." And said he would start with "the 12 different agencies that deal with America's exports."
It's an idea that has been floating around Democratic circles since late last year, when the Center for American Progress -- an influential liberal think tank -- proposed folding the Department of Commerce and other agencies that regulate trade into a "Department of Business, Trade and Technology."
The administration has been mum on whether a change of that magnitude is in the works. But William Daley, the new chief of staff, is keenly aware of the redundancies and inefficiencies in that part of the government. He ran the Commerce Department during the Clinton administration.
When the Center for American Progress released its report, Daley appeared at an event hosted by the group. "There's no question there has to be some reorganization around these issues because it is ridiculous," Daley said.
According to the OMB, the budget will once again include a "Terminations, Reductions and Savings" section.
In that section, the administration lists the programs it hopes Congress will cut. Last year, 126 cuts were proposed for an estimated savings of $23 billion. Those proposals would have slashed funding for Voice of America, environmental protection grants and a military engine development program.
Since Congress has failed to pass a budget for the current fiscal year, it's a fair to assume many of those reductions will be included in this year's budget.
What we aren't likely to see are the kinds of wholesale reforms to entitlement programs, defense spending and the tax system proposed last year by Obama's fiscal commission.
Alan Simpson, one of the co-chairs of the commission, told CNN that without those reforms -- any cuts pushed through Congress will amount to "just sparrow belch in the midst of the typhoon."