IMF calls for dollar alternative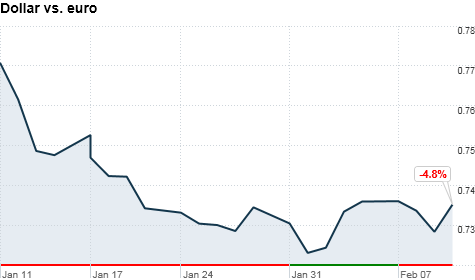 NEW YORK (CNNMoney) -- The International Monetary Fund issued a report Thursday on a possible replacement for the dollar as the world's reserve currency.
The IMF said Special Drawing Rights, or SDRs, could help stabilize the global financial system.
SDRs represent potential claims on the currencies of IMF members. They were created by the IMF in 1969 and can be converted into whatever currency a borrower requires at exchange rates based on a weighted basket of international currencies. The IMF typically lends countries funds denominated in SDRs
While they are not a tangible currency, some economists argue that SDRs could be used as a less volatile alternative to the U.S. dollar.
Dominique Strauss-Kahn, managing director of the IMF, acknowledged there are some "technical hurdles" involved with SDRs, but he believes they could help correct global imbalances and shore up the global financial system.
"Over time, there may also be a role for the SDR to contribute to a more stable international monetary system," he said.
The goal is to have a reserve asset for central banks that better reflects the global economy since the dollar is vulnerable to swings in the domestic economy and changes in U.S. policy.
In addition to serving as a reserve currency, the IMF also proposed creating SDR-denominated bonds, which could reduce central banks' dependence on U.S. Treasuries. The Fund also suggested that certain assets, such as oil and gold, which are traded in U.S. dollars, could be priced using SDRs.
Oil prices usually go up when the dollar depreciates. Supporters say using SDRs to price oil on the global market could help prevent spikes in energy prices that often occur when the dollar weakens significantly.
Fred Bergsten, director of the Peterson Institute for International Economics, said at a conference in Washington that IMF member nations should agree to create $2 trillion worth of SDRs over the next few years.
SDRs, he said, "will further diversify the system."
Dollar firms after starting 2011 weak
The dollar has been drifting lower so far this year as the global economy improves and investors regain their appetite for more risky assets such as stocks and commodities.
After rising above 81 in early January, the dollar index, which measures the U.S. currency against a basket of other international currencies, eased below 77 earlier this week.
However, the dollar was higher Thursday against the euro, pound and yen as disappointing corporate results weighed on stock prices following several days of gains on Wall Street. The rally in the commodities market also cooled, with the price of oil and metals backing off recent highs.
In addition, renewed concerns about the debt problems facing troubled European economies put pressure on the euro and supported the dollar. The yield on Portugal's benchmark bond rose to a record high Wednesday, and borrowing costs for Ireland, Spain and Greece remain elevated.
"The market is shedding risk, with equities and commodities weakening and the U.S. dollar broadly stronger" said Camilla Sutton, currency strategist at Scotia Capital.
Traders were also digesting comments from Federal Reserve chairman Ben Bernanke, who told Congress Wednesday that despite a strengthening economic recovery, the unemployment rate remains high while inflation is "still quite low."
Those remarks reaffirmed the view that "the Fed would be very slow to tighten policy given its dual mandate of price stability and employment," analysts at Sucden Financial wrote in a research report.
Bernanke also urged lawmakers to come up with a "credible plan" to bring down "unsustainable" federal budget deficits.
"We expect that the outlook for the U.S. fiscal position will weigh heavily on the U.S. dollar in the quarters ahead," said Sutton. In the near-term, however, she said "a strengthening growth profile" could help provide "a temporary period of dollar strength."