Best Buy's lesson from China: Cluttered beats curated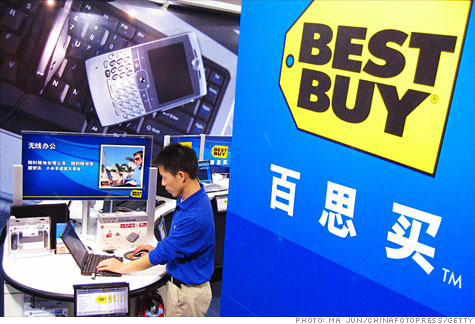 FORTUNE -- Sometimes it's better to be late to a party. By the time Best Buy made a splash in China in 2006, large domestic rivals had already spread their tentacles across the nation, the Wal-Marts of the world were becoming entrenched, and massive PC malls -- a sort of messy and hyperactive physical Ebay (EBAY, Fortune 500) -- had already sprouted up across the landscape like mushrooms.
But a birds-eye view and a slow-go approach has helped Best Buy navigate the country's treacherous retail trade and experiment without losing its signature blue shirt.
In China, Best Buy put away the company's orthodox retail approach. Instead it benched its brand, decided to grow through acquisition and is only now slowly wooing customers and vendors towards the Best Buy way five years after arriving. At the same time, what it's learning in China may soon influence how it does business in the United States as well.
The world's largest consumer-electronics retailer, Best Buy (BBY, Fortune 500) prides itself on having knowledgeable and unbiased sales people who can help bewildered customers choose from a preferred selection of electronics, which run the gamut from iPads and computers to refrigerators and electric motorcycles. In California, for example, the company will soon offer charging stations for electric cars, with their Geek Squads dispatched to help with home installation.
But Chinese consumers aren't used to the Best Buy process. Nor do the majority of them want it -- at least not right now. They've grown up shopping for electronics at cluttered mom-and-pop shops where business is fueled by word of mouth, or at big-box retailers such as Gome Electrical Appliances or Suning Appliance Group, where competing vendors display and sell their own massive array of wares. Kal Patel, who head's Best Buy's Asia operations, says that early on, Best Buy experimented with a US-style store in Shanghai. "We curated everything. We made choices in rice cookers and choices in PCs," he says. But customers wanted the old system, where they "choose for themselves from thousands of things."
"What we learned, very crucially, is that in China you cannot make revolutionary change. You have to work at the pace of the Chinese consumer," he adds.
Other foreign retailers have learned that lesson the hard way. For every Carrefour -- a supermarket chain known or having the pulse of the Chinese consumer, whether the need is fresh chicken blood or nearly-kicking chicken feet -- there has been a Wal-Mart (WMT, Fortune 500) (originally derided for its American-centric view and for trying to strong-arm Chinese unions and suppliers) and a Starbucks (SBUX, Fortune 500) (accused of "trampling Chinese culture" after it opened shop in Beijing's Forbidden City).
Best Buy continues to be guided by the caution of its former CIO, Bob Willett, who once noted that "if you look at any of the companies that have gone international and you dig into the reasons why they failed it is because they moved too fast."
In China, no Western behemoth is more deliberate or, well, slow. Best Buy has only opened eight branded stores in the world's most fertile consumer ecosystem -- where more than $2.5 billion in retail sales still grow at double-digit clips.
And their purpose is more experimental than anything else, says Patel. The real China strategy is being put to work at Jiangsu Five Star Appliance Company, in which Best Buy took controlling stake in 2006 for about $180 million, then bought out fully in 2008. Five Star, the nation's third- largest electronic retailer, runs 166 stores and has grown by often saturating a particular province's second- and third-tier cities.
Retailing the Chinese way
The purchase gave Best Buy immediate reach into China, but more importantly, says Patel, it gave the company a way "to learn and understand the nuances" behind how Chinese consumers shop for electronics.
One big issue for all retailers in China, explains Professor Marshall Meyer, of the University of Pennsylvania's Wharton School, is that Chinese consumers are extremely price conscious while also carrying "strong local preferences." They also like lots of selection and the ability to touch products before they make a deal.
This is evident in the PC malls where many of the country's personal computers are sold. There, shoppers troll for electronics among hundreds of small vendors crammed together in kiosks. On the surface, the malls appear to be ripe for cleaning up with a little Western retail know-how, given the cluttered appearance and the surfeit of counterfeit goods at many stores. But Patel says that a closer looks reveals that these PC malls "are like ant farms and the ants are very organized."
Consumers police the vendors, which survive or fail through word of mouth. And if one vendor doesn't have a product, "the guy will run around the rest of the mall and find it for you," says Patel. "How can you compete with that?"
Five Star is where Best Buy is trying to compete, with some success. In 2006, Five Star had less than $1 billion in revenue, compared with $1.6 billion now. Meanwhile, same-store sales have grown between 20% and 30% a year and continue to accelerate, and the chain has continued to have "significant gross net margin improvement" since its purchase, according to Best Buy, which does not break out its Five Star operations data.
It has made these gains in a sometimes cutthroat environment -- someone even put broken glass on the escalators of Best Buy's Shanghai store to disrupt its opening day -- by keeping an eye on both its customer's tastes and government wants, and only importing the Best Buy ethos a little at a time.
For instance, in order to keep up with local competitors like Gnome, which has more scale, higher brand awareness and better government connections, Five Star assiduously follows China's government edicts. When China's government announced that its eleventh "Five-Year Plan" would promote greater energy efficiency and "greener" consumption, Five Star cut deals with its vendors to make sure its stores could offer best-in-breed solar water heaters and other energy efficient appliances at the right prices.
Now that the government is pushing product recycling and the idea of "inclusive growth," through the subsidy-led expansion of retail chains into China's smaller towns, Best Buy is figuring out how to roll out a version of its US-based recycling program in China and looking for ways to set up Five Star in towns so small that, as Patel puts it, "your marketing is the town crier."
An East-West hybrid
Since Chinese consumers still want lots of choices, Five Star continues to use the same retail model of its larger competitors, which basically gives each competing manufacturer a concession to run and stock a particular section of the store. (No retailer could afford to supply the same sort of variety of brands and products by themselves.)
But Patel says Best Buy tweaks the concept as much as it can behind the scenes, so that consumers are offered a better experience. The company brings every Five Star store manager to Minneapolis for training in the Best Buy way, fosters communication through regular teleconferences and forges closer relationships with its vendors' commission-driven employees, so there is less turnover and greater loyalty to the chain.
Realizing that Chinese consumers may want the immense selection but still desire less-biased help in navigating the products, Best Buy has begun paying Five Star customer service agents to walk around several of its stores, answering customer questions about products and helping them navigate between vendors so they can better compare. In a few Five Star concept stores, Best Buy has experimented more forcefully with China's prevailing retail design, doing away with the vendor-led model in a particular category -- like small appliances -- and splitting the store's mix of workers so that half are salaried Five Star employees who receive no sales commission.
Best Buy isn't dictating too much from above, and, in fact, much of the innovations taking place at its stores come from the ground. For instance, because some Chinese holidays make America's Black Friday seem tame, a group of Five Star employees culled through store data to find their best customers, then sold them "reservations" guaranteeing them holiday prices on specific items and no crowds. The idea, which has now been adopted by other Five Star stores in China, provided a competitive advantage during an important holiday season," says Patel. "The uptake was good. [The selected customers] bought more profitable products and they were able to avoid the mob and take their time."
Versions of the reservation idea have now been tried at Best Buy stores in the United States. Patel says that more lessons from China may be on the way. Noting that an increasing number of Best Buy customers are lower-income and often immigrant, he says Best Buy is exploring the idea of opening a "raw model" Five Star-style appliance store here to bring in those customers "who like a little bit of chaos in the stores and the search for bargains."