As Treasury yields go, so go mortgage rates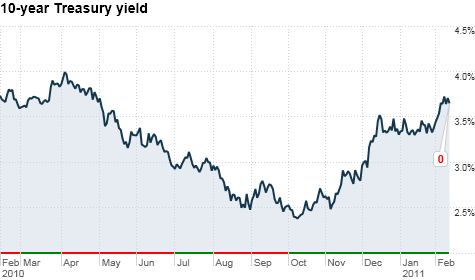 NEW YORK (CNNMoney) -- Treasury yields have been climbing higher since fall 2010, as the economy begins to show signs of improvement. As a result, mortgage rates have been moving higher as well.
The national average interest for a 30-year, fixed-rate mortgage was 5.05% in the week ended Feb. 11 -- marking the first time since May 2010 that the popular consumer borrowing rate topped the 5% barrier, according to Freddie Mac's Primary Mortgage Market Survey. The data factors in an average of 0.8 points in fees that the average borrower paid to lower his or her rate.
Other surveys find average mortgage rates are even higher. Bankrate.com, which look at loans not backed by mortgage giants Fannie Mae or Freddie Mac, spiked to nearly 5.25% in the past week.
Mortgage rates move in tandem with Treasury yields. In particular, the 30-year fixed mortgage rate tracks in line with the benchmark 10-year Treasury yield.
The benchmark 10-year Treasury yield has been rallying off its lows of 2.5% in October. Thursday, the benchmark yield was as high as 3.71%, after a better-than-expected read on the labor market.
However, the geopolitical unrest in Egypt made investors wary across all financial markets. After weeks of anti-government protests, Egyptian President Hosni Mubarak relinquished his power.
Friday, bond prices were mostly higher, sending yields lower. The benchmark 10-year yield was at 3.64%, the 30-year bond was at 4.70%, the 5-year note was 2.36% and the 2-year note was nearly unchanged at 0.85%.
Treasury vs. Mortgage rates: The average yield for the benchmark Treasury bond for the past 60 or 70 years is about 5.5%, according to Marc Scudillo, managing officer at EisnerAmper.
"It is still at close to historic lows -- it has no where to go but up," Scudillo said. He added that most feel that it will be toward the later part of this year, if not early next year, that the 10-year Treasury yield will reach 4%.
As overall interest rates rise, Scudillo said that the average 30-year fixed mortgage rate could reach between 5.5% and 6% by the end of the year.
Rising mortgage rates will mostly impact those trying to refinance. But Scudillo does not see the gradual trend of higher rates affecting a recovery in the housing market. The main catalyst for real estate is a buyer's ability to get financing.
Fannie and Freddie: Friday, the Obama administration officially unveiled its plan to fix "fundamental flaws" in the mortgage market, and reduce the government's role in housing finance. The proposal includes winding down Fannie Mae and Freddie Mac, and having banks and the private sector provide the financing for home loans.
"The specific recommendations don't really seem all that transformational," said Kevin Giddis, president of fixed income at Morgan Keegan, in a written statement. He said that reducing the role of government-sponsored enterprises was the plan when Fannie and Freddie were placed in conservatorship in late 2008.