Bond shoppers: 10-year yields pushing near 4%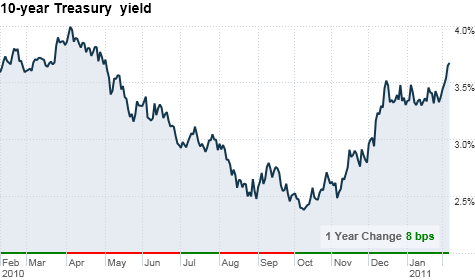 NEW YORK (CNNMoney) -- A strengthening U.S. economy and growing concerns over inflation will likely push the benchmark 10-year Treasury yield back over 4% this year, experts say.
Treasury prices have been falling - and yields marching higher - since the fall. During trading Monday, the benchmark yield rose as high as 3.68%, the highest level since early May. Bond prices and yields move in opposite directions.
"The combination of improving growth and some rising inflation fears" are pushing prices down, said Kim Rupert, fixed income analyst for Action Economics.
As a result, 10-year yields will probably hit 4% in the first half of the year, and possibly even in the first quarter, rising to 4.5% by year-end, said Rupert.
Meanwhile, Brian Edmonds, head of interest rate trading at Cantor Fitzgerald, said he sees the benchmark yield hovering at 3.75% for the time being, and not pushing above 4% until the second half of the year once the Fed's quantitative easing program ends.
"If it is clear that the economy is picking up, inflation is starting to normalize, and the FOMC is going to be ending the purchase program, I think we could see more of a sustained rise in interest rates at that point," said Edmonds.
The Federal Reserve is currently buying $600 billion in Treasuries of varying lengths, in an effort to stimulate the economy.
The Fed's purchases affect supply, raising prices and keeping a cap on yields, Edmonds contends. The Fed is making an estimated $14.5 billion to $19.5 billion worth of purchases in the first half of this week.
Not everyone, though, believes the Fed's quantitative easing is keeping a lid on rates.
The program "is doing more harm to the Treasury market than it is providing support," said Rupert. "There is a lot of talk that the Fed's actions are becoming more inflationary."
Either way, both market watchers agree inflation is a hazard for Treasury investors, who could see the value of their investment erode as they hold bonds for months or years.
"From an inflation standpoint, there are a lot of concerns out there," said Edmonds, adding that "once we get inflation, it will be very difficult to stamp it out."
In the meantime, bond investors will be keeping an eye on Treasury sales this week. The Treasury is scheduled to auction $32 billion worth of three-year notes Tuesday. Wednesday, $24 billion worth of 10-year notes come up for auction and Thursday, $16 billion worth of 30-year notes hit the selling block.
Ahead of the auctions, Treasury prices were little changed Monday, as U.S. stocks got a lift from an onslaught of corporate mergers. Investors tend to sell bonds when they are more confident in an economic recovery.
The 30-year yield was down slightly at 4.70%. The benchmark 10-year was basically unchanged at 3.64%. The 5-year was also little changed at 2.28% and the 2-year note yield was 0.78%.