Nokia's new strategy: Windows Phone 7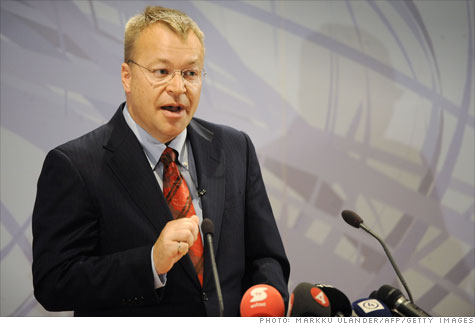 NEW YORK (CNNMoney) -- Nokia CEO Stephen Elop announced Friday that the Finnish mobile phone maker would make a radical shift in its business strategy, highlighted by a switch to Microsoft's Windows Phone 7 smartphone platform.
Elop, who joined Nokia in September after heading Microsoft's business division for the two years, spoke about the company's future at a strategy conference held in London. The announcement comes in the wake of a memo he sent to Nokia employees earlier this week in which the CEO described the company as standing on a "burning platform." Nokia will die if it does not change the way it does business, he said.
The company's new strategy includes a management shakeup, a significant number of layoffs, and a realignment of its business units. But the boldest change is its embrace of a third-party smartphone platform in Windows Phone 7 -- a major strategic shift for Nokia and a giant coup for Microsoft (MSFT, Fortune 500).
Investors weren't too pleased with the plan. Shares of Nokia (NOK) fell 12% on Friday.
Elop, however, argued the partnership would once again make Nokia a world-class smartphone company.
"Consumers want compelling mobile products, which include not only the device, but the software," Elop said during the news conference. "Nokia and Microsoft will combine our strengths to deliver an ecosystem with unrivalled global reach and scale. It's now a three-horse race."
The other two "horses" that Elop was referring to are Apple's iPhone and Google's Android smartphone platforms. Nokia's Symbian smartphone operating system is currently the No. 1 smartphone platform in the world, with about 200 million customers. But its market share is rapidly diminishing, and it it has struggled to keep up with the pace of innovation set by Apple (AAPL, Fortune 500) and Google (GOOG, Fortune 500).
Windows Phone 7, though just four months old, already has more apps in its app store than Symbian. Microsoft's new mobile OS has gotten off to a somewhat slow start, but both the Nokia 'sand Microsoft's CEOs said they believe that a partnership will leverage the two companies' core competencies -- Microsoft's software and Nokia's hardware and distribution -- to win in the smartphone space.
"The partnership announced today provides incredible scale, vast expertise in hardware and software innovation and a proven ability to execute," said Steve Ballmer, Microsoft's CEO, who also appeared at the London conference.
Goodbye Symbian and Intel, hello Windows
Nokia has forever put its own smartphone operating system, Symbian, on its devices. It had also been working on a second OS, MeeGo, in partnership with Intel (INTC, Fortune 500), though that launch was perpetually delayed.
Elop said the company's "principal smartphone strategy" will revolve around Windows Phone 7. Symbian will become a "franchise platform," and the company expects to sell 150 million more Symbian devices over the next several years as it transitions to Windows Phone 7.
For Nokia, the partnership with Microsoft could finally get it through the door in the United States, a market the world's bestselling phone maker has struggled to crack. Elop said Nokia would have trouble distinguishing itself from its competitors if it partnered with Google rather than Microsoft.
"There are no heroics in being the 20th Android phone at Best Buy," said Dan Hays, director at consultancy PRTM. "Going ahead with Windows Phone 7 could actually serve as a differentiator for Nokia in the marketplace. No other major mobile phone developer has really stepped forward to embrace Windows Phone 7 in a big way."
For Microsoft, Hays said the partnership with the world's largest smartphone maker legitimizes its smartphone platform. Landing Nokia as a partner will also greatly increase its sales: Manufacturers have shipped only 2 million Windows Phone 7 smartphones in the past four months, while Apple and Google are activating upwards of 300,000 iPhones and Android phones each day.
Nokia's MeeGo partnership will continue as an "open-source mobile operating system project" that focuses on longer-term exploration of next-generation devices, Elop said, though he also promised that a "MeeGo-related product" will ship later this year.
In a press release, Nokia referred to MeeGo "computers," perhaps suggesting that the OS will not appear on smartphones but on tablets or netbooks.
Strategy shift
Abandoning Symbian and sidelining MeeGo are risky moves: Nokia has devoted tremendous time and resources to improving its Symbian software, and its Intel/MeeGo partnership has been very high profile. The yet-to-be-released MeeGo has a growing wave of developer support and momentum behind it, and Symbian remains popular with its users.
But by embracing Microsoft's Windows Phone 7 operating system, Nokia could follow in the footsteps of a company like Motorola (MMI), which struggled to make a winning device to replace its top-selling RAZR until it adopted a third-party operating system, Android, for its Droid smartphone.
Nokia held a 33% share of the smartphone market in 2010, according to IDC, down from 39% in 2009 and 48% in 2006 -- the year before Apple unveiled its iPhone.
Nokia's declining market share, product delays and the general sense that the company lacks a clear strategy have sent shares plummeting 73% since their 2007 peak.