Obama's budget goodies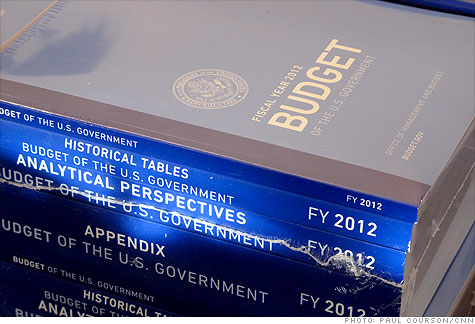 NEW YORK (CNNMoney) -- President Obama's 2012 budget proposal isn't all slash and burn.
While the $3.7 trillion budget does contain big cuts for a slew of federal programs and agencies, it also contains billions in new funds for research and development, infrastructure, job training and clean energy programs.
Retaining America's competitive edge was a theme Obama hit hard during his State of the Union address, and it continued with Monday's budget proposal.
"Our focus cannot just be the short term," the president said in the budget's introduction. "We must also must look ahead to what will create the economic growth and the jobs over the next several years so that we can keep the American Dream alive."
Here's a sampling of what Obama wants to fund:
Research and development -- Proposed spending on R&D across the federal government is pegged at $148 billion.
This includes funding for basic research at the National Science Foundation, the Department of Energy's Office of Science and the National Institute of Standards and Technology labs. Those agencies conduct research into clean energy technologies, advanced manufacturing processes and cyber security, among other things.
Also part of the proposal is $32 billion in funding for biomedical research at the National Institutes of Health, an increase of over $700 million. The focus will be on moving drugs and other therapies from the research to deployment stage.
The budget also calls for making the research and experimentation tax credit for companies permanent, and increasing it by 20%.
Energy -- The president wants to double energy efficiency research and deployment, and increase renewable energy research by 70%.
Just like his two previous budget proposals, Obama is calling for $36 billion in loan guarantees for traditional nuclear power plants and $2 billion in loan guarantees for renewable energy projects -- a request Congress has so far failed to fund. He also wants support for small, modular nuclear reactors.
Obama called for doubling, to six, the number of government labs where scientists from several fields can work together on a variety of energy technologies -- including batteries for electric cars, smart grid applications, solar power and nuclear reactors.
The president wants to continue the grant program for builders of wind and solar projects, which cost the government about $4 billion in 2010.
As part of his plan to put a million electric cars on the road by 2015, Obama is proposing a $7,500 rebate for electric cars that buyers can get at the dealership.
He also calling for $1 billion in tax incentives for owners of commercial buildings to make them more energy efficient, part of his push for a 20% cut in buildings' energy use by 2020.
Some of these energy initiatives are paid for by proposed cuts in oil and coal industry tax breaks, estimated to save around $4 billion a year.
Transportation -- The budget proposal calls for a six-year, $556 billion transportation bill, an increase of 60% from the previous bill, when adjusted for inflation.
This is the bill that pays for highways, bridges, trains, airports and grants to states for local road maintenance. A big chunk of the funding comes from the 18.4 cent-a-gallon federal gasoline tax.
The president's proposal includes $53 billion over six years for high-speed rail projects and $30 billion over six years to fund a national infrastructure bank. The bank is supposed to make decisions on transportation projects from the perspective of the entire nation, not just the state or locality where they are to be built.
The president proposes a $50 billion up front investment for the transportation bill in an effort to jumpstart job creation.
In an effort to unclog the nation's airports and skies, the budget proposes $1.24 billion to modernize the air traffic control system from ground-based to satellite radar.
Broadband Internet access -- The administration is seeking $10 billion over 10 years to build a national wireless network for emergency workers, expand broadband access into rural areas and for wireless R&D.
This is paid for by government airwave auctions, expected to generate $27 billion over the next ten years. The remaining $17 billion would be used for deficit reduction.
Jobs -- While all these initiatives are designed to create jobs, Obama is calling for an additional $10 billion to retrain out-of-work Americans and help them find employment.
The fight
The president faces an uphill battle in getting any of these spending increases approved.
First off, these are proposals for the 2012 budget. Due to legislative gridlock, Congress hasn't passed the 2011 budget yet -- the government has been relying on a series of continuing funding resolutions to continue operating.
Judging by the continuing resolution that came out of the House on Friday, Republicans are in little mood to increase funding for much of anything.
They proposed nearly $100 billion in cuts to the 2011 budget, over $40 billion coming from energy, environment, job training and transportation programs.