Electric cars get a boost in Obama budget plan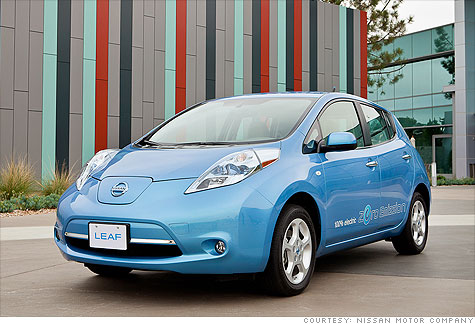 NEW YORK (CNNMoney) -- In its effort to put 1 million electric cars on the road by 2015, the Obama administration's proposed budget supports a plan to give $7,500 directly to electric car buyers rather than make them wait for a tax credit.
Under the "Charging America Forward" act, put forward by Democratic Sen. Debbie Stabenow of Michigan, auto dealers and finance companies would give customers a simple on-the-spot discount, then get reimbursed later by the government.
A tax credit for plug-in vehicles already exists but, as it stands now, car buyers have to wait until tax time to get that money back. Consumers buying qualifying plug-in cars are eligible for a tax credit of between $2,500 and $7,500 depending on the size of the vehicle's battery pack.
Under Stabenow's bill, business would also get tax credits of $15,000 to $100,000 for buying plug-in trucks or other electric commercial vehicles.
The administration hopes in-dealership discounts will encourage more car buyers to choose electric vehicles. Car dealers, for now, are holding off on supporting the idea.
"We just want to see how it's done because it's never been done before at the federal level," said Bailey Wood, a spokesman for the National Automobile Dealers Association.
Wood couldn't say exactly what the problems might be, only that issues could arise as the legislation moves forward.
"Our problem is how do you turn a tax credit into cash on the hood in the showroom?" he said.
No matter how it's done, it would seem to require that car dealers front the tax credit money for at least some period of time between the customer's purchase and the reimbursement when taxes are filed.
"Our staff is working with the dealers now to try to get suggestions from them as to how we can make this as efficient and workable for them as possible," said Cullen Schwarz, a spokesman for Sen. Stabenow's office.
The proposed electric car rebate raises fewer potential problems than the Cash for Clunkers program of 2009, which car dealers loved despite some problems with getting reimbursed in a timely fashion.
"We're not shooting down the proposal," said Wood, "We think it's a great way to move electric vehicles."
For one thing, only one or two models on any dealer's lot would actually qualifty for this program, Wood pointed out. Also, the agency handling this electric car rebate program will be the Internal Revenue Service, which has experience in this area.
Cash for Clunkers was handled by the National Highway Traffic Safety Administration, which had never tackled anything like it before.
Market research firm J.D. Power and Associates estimates that about 20,000 electronic vehicles will be sold this year. The rebate might boost that number by 10%, guessed J.D. Power analyst Mike Omotoso.
Dealers should welcome anything that could bring customer into showrooms, Omotoso said. Even if a customer ultimately decides against buying a Nissan Leaf or a Chevrolet Volt, they might decide to buy something else.
Wood said the dealers might yet support the program when the details are worked out.
"We need to see what the details are before we plug this in and drive it away," he said.