For mergers, it's a small world after all
NEW YORK (CNNMoney) -- By now, you've probably heard that the venerable New York Stock Exchange is about to get a Teutonic makeover. It's parent company, NYSE Euronext (NYX, Fortune 500), is merging with Germany's Deutsche Boerse.
There are two ways to view this news. The first is to get all jingoistic and xenophobic and bemoan how "foreigners" are taking over well-known U.S. institutions.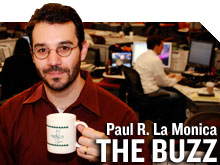 That's not all that productive though. Instead, it might be wise to realize that this is the continuation of a trend that's not going to change any time soon. In other words, it's better to embrace globalization.
According to Thomson Reuters, so-called cross-border transactions are all the rage this year.
More than $118 billion's worth of deals where the acquirer and acquiree don't reside in the same country have taken place thus far -- including the NYSE-Deutsche deal. That accounts for 30% of all mergers and is up 56% from the same time a year ago.
Just last week for example, the London Stock Exchange announced it was buying TMX, the parent of the Toronto Stock Exchange. Cross-border deals are taking place outside the world of finance as well. Also last week, U.K..-based driller Ensco (ESV) agreed to buy Houston oil company Pride International (PDE).
More deals like this will happen. But it's important to note that the trend goes both ways, so to speak. Big American firms will increasingly look abroad as well for merger opportunities. It's not simply a case of U.S. companies selling out to European and Asian competitors.
General Electric (GE, Fortune 500) announced on Monday it was buying the oil well support business of British energy firm John Wood for $2.8 billion.
Last month, Cleveland-based iron ore miner Cliffs Natural Resources (CLF) agreed to shell out over $4 billion for rival Consolidated Thompson of Montreal. And DuPont (DD, Fortune 500) said it would buy Danish food enzyme maker Danisco for nearly $6 billion.
One fund manager said he expects many more cross-border deals in the coming months, especially among financial services firms.
"The globe is getting smaller. This trend is not going to slow down. There should be a lot more opportunistic deals with exchanges, banks and insurers. It's all about scale," said John Orrico, manager of the Arbitrage Fund in New York.
Orrico follows mergers closely since his fund buys shares of companies that are in the process of being acquired and sells short companies making the acquisition.
Another fund manager agreed that this is only the beginning of a wave of global wheeling and dealing. What's more, he said that companies in the United States and Europe may actually lead the charge.
"Coming out of the financial crisis, many large companies are now generating a lot of cash and have relatively little debt," said Martin Jansen, head of international equities for ING Investment Management in New York. "And for companies in developed markets in particular there are growth constraints."
It makes sense that U.S. and European companies would be more interested in partnering up more often. Consolidation can cut costs and boost profits.
But Jansen said multinational firms in slower growth markets probably will look to acquire leading businesses in emerging markets as well. That's what PepsiCo (PEP, Fortune 500) is doing with its purchase of Russian beverage maker Wimm-Bill-Dann (WBD).
Of course, emerging markets business titans will also look increasingly to developed markets -- possibly to the consternation of those who espouse more protectionist economic policies.
China, for example, has raised eyebrows with investments in energy firms in North America. CNOOC (CEO) is acquiring a stake in assets of Chesapeake Energy (CHK, Fortune 500) while PetroChina (PTR) recently inked a joint venture deal with Calgary's EnCana (ECA).
Jansen warned that one potential snag for investors looking to profit off these and other expected deals is that national political interests can often lead to mergers going awry.
He pointed to the planned purchase of Saskatchewan's Potash (POT) by Australia's BHP Billiton (BHP). That deal fell through after the Canadian government blocked it.
"More companies should be interested in doing deals across the globe. But sometimes there will be a provincial or regional problem that will cause a merger to be heavily scrutinized," he said.
It's too soon to say if the NYSE deal will present similar headaches for U.S. regulators. But anytime investors have to worry about even the minute possibility that politics will kill a deal, it's not a good thing.
-- The opinions expressed in this commentary are solely those of Paul R. La Monica. Other than Time Warner, the parent of CNNMoney, and Abbott Laboratories, La Monica does not own positions in any individual stocks.