Google's Schmidt: Android is saving the world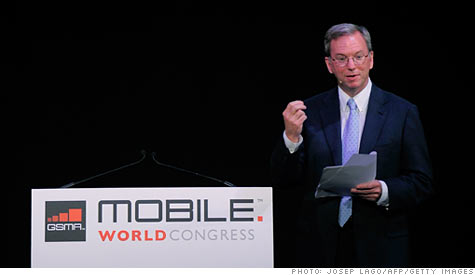 BARCELONA, Spain (CNNMoney) -- Google chairman and outgoing CEO Eric Schmidt said Tuesday that Android-based smartphones can save the world -- as long as you're willing to share information with Google.
"We now have all of the world's information at our fingertips," Schmidt said in a keynote address at the Mobile World Congress in Barcelona. "I'm not sure it will prevent war, but it will produce a lot of talking before war starts."
Schmidt's basic premise was that people are now effectively carrying around mini personalized computers that allow us to share and collect information about ourselves and the world around us.
They're also becoming ubiquitous: The growing ability to make cheaper, low-end smartphones means 2 billion more people will soon have access to the mobile Internet over the next several years.
Schmidt thinks all of that information sharing will serve as the sunlight that disinfects the world's tyranny and corruption.
Phones will also help prevent disease, Google's CEO said. Since the devices follow their users around all day, smartphones will soon be able to monitor your health and alert you to problems as they're happening.
And he said Android is making people happier.
"You're never lonely, you're never lost, you're never bored, and you're never out of ideas," Schmidt said. "It's all because of our ability to understand what you care about, get relevant information to the devices you carry around, and use supercomputers in the cloud to process all that data."
The privacy component
Okay. But what if you don't want to share? All of Schmidt's premises are contingent on the user's willingness to hand information -- much of it intimately personal -- over to Google.
For instance, Schmidt envisioned a scenario where you would enter the task "buy pants" into your smartphone. Based on your shopping history, Google (GOOG, Fortune 500) knows you like deals. It also knows where you are, since your smartphone has GPS. Your phone instructs you to go to a store near you that happens to have a great deal on pants, and Google tells the store to hold the pants at the counter for you.
Oh, and you just tap your smartphone onto a reader at the store to pay, since Google has all of your credit card information.
Some read that scenario and eagerly ask "Where do I sign up?!"
But Schmidt acknowledged that many don't want Google to know everything about them.
The CEO mentioned the phrase "with your permission" five times during the presentation. He also said Google is "very careful about privacy" and that "not everyone will choose to do this."
But he followed that thought with this one: "For those who do, the more your phone knows about you, the better."
When asked how Google can convince users to share all that personal information about themselves, Schmidt reiterated that the company takes privacy seriously -- a message he thinks users embrace.
"Most people trust brands that are trustworthy," he said. "It's usually the case that if you offer something of value, and people think that you're going to be straight with them, and you have a strong privacy policy, people will opt in."
Google isn't trying to violate people's privacy by collecting tons of information about them, he said. Rather, it is "trying to give them choices."
Of course, a company doesn't need to purposefully violate people's privacy for some to lose some faith in it. Google Buzz, for instance, made it unclear to many users just how much they would be sharing. As a result, many were surprised to find that their most frequent contacts were outed online.
But Schmidt is right when he says that users will need to place an awful lot of faith in Google to enable his utopian vision of nearly omnipotent personal technology.
Because it won't just be Android saving the world. Even Google's robotic cars could save lives one day, Schmidt said: "A car that drives you around by itself gets you home better than you would if you were drunk."
Talk about trust.