$1 million Italian supercar headed to the U.S.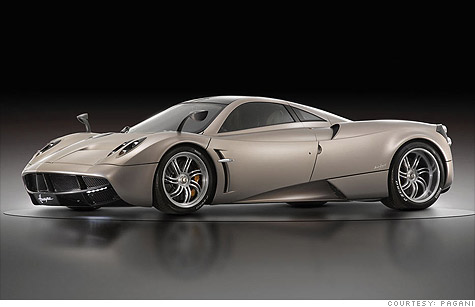 NEW YORK (CNNMoney) -- There's a new Italian sports car coming to America but at quite a price. The 700- horsepower Pagani Huayra will cost about $1.1 million.
The Huayra, pronounced "why-rah," is named after the ancient Andean wind god Aymara Huayra Tata. It's powered by a 6-liter twin-turbocharged 12-cylinder engine produced by the AMG division of Mercedes-Benz. It has a seven-speed twin-clutch automatic transmission.
At about 3,000 pounds, Pagani boasts that the Huayra is the lightest car in its class, enabling it to go from a standstill to 60 miles per hour in about 3.5 seconds.
Founded in 1991 by engineer and designer Horatio Pagani, the automaker currently has, up to now, had just one model, the Zonda, unveiled in 1999 and now available in a variety of different versions, all very expensive. This car will replace the Zonda, said Pagani managing director Francesco Zappacosta.
"This is a new and better Pagani for the same market," he said.
Pagani created the Huayra as part of the automaker's plan to break into the U.S. market. The Zonda was engineered to pass European safety and emissions standards but not those in the United States, which are different. The Huayra has been engineered and crash tested -- yes, some of these cars have been sacrificed already -- to meet safety standards on both continents.
So far, five full prototypes have been built. They have so far undergone about 300,000 miles of road tests, according to the automaker.
Much of the car's structure, particularly the area around the driver, is made from a strong, lightweight material called carbon-titanium.
The fuel tank, made from "different composite and ballistic materials," according to the company's announcement, is integrated into the body just behind the cabin.
With a total of only 60 employees, Pagani's small factory can only produce so many of the largely hand-built cars so initial sales in the U.S. will probably be limited to about five cars a year during 2012, according to the automaker. After that, a factory expansion should allow for sales of as many as 10 cars a year here.
Right now, the Huayra is competing for American sports car buyers ready to spend over $1 million with the likes of the Bugatti Veyron, among others, according to the automotive website Edmunds.com.
With worldwide sales of 20 cars a year, however, the Pagani Huayra will be an even an rarer sight than the Veyron, Zappacosta said.