Bond yields tick lower on mixed data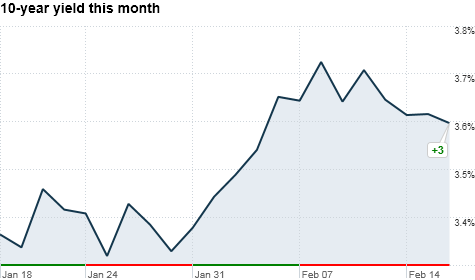 NEW YORK (CNNMoney) -- Bond yields moved slightly lower in midday trade Wednesday, as investors digested data on inflation, housing and production.
"It's pretty mixed today," said Kim Rupert, fixed income analyst at Action Economics. "The headline numbers were somewhat bearish, but other data in the reports showed improvement."
The housing starts report was especially mixed: The number of new homes being built rose 14.6% in January, but the number of permits for future housing construction fell 10.4%.
Other reports Wednesday showed the producer price index ticked up 0.8%, and industrial production fell 0.1%.
"We've been stuck in a bit of a range, and we need a catalyst to break higher," Rupert said. "Recent data have been mixed, and distorted by bad weather. The market is looking for stronger indications."
The 10-year yield had been stuck in a month-long rut below 3.5%, but it has ticked slightly higher over the last two weeks. Still, the benchmark note's yield -- which affects interest rates on everything from savings accounts to home loans -- has struggled to move higher.
Geopolitical concerns have also limited selling, Rupert said. While traders have priced in the political protests that have continued in the streets of Egypt since January 25, they're maintaining their positions as they wait to see how the situation is resolved.
Traders are also awaiting a Thursday announcement from the Treasury Department about upcoming auctions.
What yields are doing: The 30-year yield ticked down to 4.64%, the 2-year yield held at 0.64%, and the 5-year yield slipped to 2.32%.
The 10-year note's yield was at 3.59% in midday trade, down from 3.62% late Tuesday.