Oil spikes as Iran warships near Suez Canal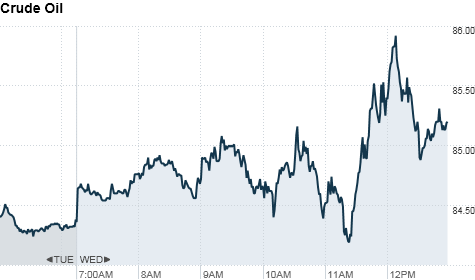 NEW YORK (CNNMoney) -- Oil prices spiked Wednesday following reports that Iran was moving warships through the Suez Canal on their way to Syria.
Israeli Foreign Minister Avigdor Liberman called the move "a provocation," saying it was "something which has not happened in many years."
Crude oil for delivery in March rose as much as 1.2% to $85.95 a barrel, following the news. Brent crude, which is traded primarily overseas in Europe, rose as much as 2.1% to $103.31 a barrel.
Traders urged caution, saying the reports were still a bit vague.
"The reports are sketchy at the moment, but the news of Iranian warships in the Suez did rally the market a bit," said Andrew Lebow, a commodities broker with MF Global. "The market is looking for more information but certainly we're seeing some short covering on the reports."
The Suez Canal, located between Asia and Africa, is a key passageway for international trade. Millions of barrels of oil move through it every day on the way to both Europe and North America. Oil prices spiked a few weeks ago on concerns that the instability in Egypt might cause the Suez Canal to be shut down.
The potential move by Iran -- and subsequent reaction by Israel -- are the latest in several potentially destabilizing elements occurring in the Middle East.
Protests have escalated in the oil-rich country of Bahrain and now have broken out in Libya.