Publishers greet Apple's iPad plan with icy silence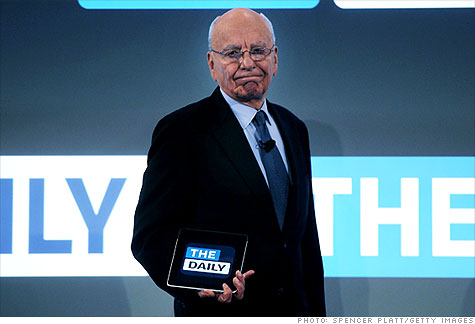 NEW YORK (CNNMoney) -- The New York-vs-Silicon Valley cold war between Apple and the publishing industry just got even icier.
Apple on Tuesday unveiled its long-awaited subscription model for content on its mobile devices. The company has been crafting its policy and holding quiet negotiations with publishers for nearly a year, but the plan it announced showed few signs of diplomatic compromise.
Apple's take-it-or-leave-it approach: It wants 30% of all sales generated through its platform, and it alone will have customers' names and contact information unless buyers opt in to share that data with content creators.
The publishing industry's response? Silence. Crickets.
Representatives of Conde Nast, Hearst and Time Inc. -- all of which have made their magazines available for single-issue purchases on the iPad -- neither released statements nor responded to requests for comment on Apple's plan.
Meredith Corp., which created branded iPad apps for magazines including Better Homes and Gardens but hasn't yet made the plunge into digital issues, said in an e-mail that it is "actively evaluating all options ... [but] we don't have any specific announcements at this time."
Apple's (AAPL, Fortune 500) press release was noticeably absent of any launch partners, a point a company spokeswoman declined to comment on. Its release also struck a defensive tone, with a quote from CEO Steve Jobs that began: "Our philosophy is simple."
Apple has just one publisher currently on board its subscription plan: News Corp., which launched The Daily earlier this month. The digitally native newspaper, which is currently offering users a free trial, will eventually sell for 99 cents per week.
Apple declined to comment on whether The Daily is paying the full 30% subscription fee or is getting a better deal.
The utter silence from the magazine industry's big players about Apple's papal bull on subscriptions stands in stark contrast to their vocal enthusiasm about tablets.
Last week, for example, Time Inc. (part of Time Warner (TWX, Fortune 500), the parent company of CNNMoney) made a splashy partnership announcement with Hewlett-Packard, (HPQ, Fortune 500) which unveiled the iPad rival it plans to release this summer. HP's TouchPad will have a subscription offering for four of Time Inc.'s titles: Time, Fortune, People and Sports Illustrated.
"We don't believe in a one-size-fits-all model around subscriptions," Time Inc.'s recently appointed chief digital officer, Randall Rothenberg, told Paid Content at HP's TouchPad launch event. "Our goal is to play with all of those that will have us."
Battle lines forming: Apple's battle with content creators is moving beyond the magazine realm. The signs are that it wants all who publish on its devices to give it a bigger bite of the cash flow.
Earlier this month, the company spooked e-reader makers when it refused to greenlight Sony's Reader app. Sony's sin: It routed users who wished to buy books through a Web app, which cut Apple out of the revenue stream.
"We are now requiring that if an app offers customers the ability to purchase books outside of the app, that the same option is also available to customers from within the app with in-app purchase," Apple said at the time.
That's a big, flashing red light that will affect other power players -- like Amazon (AMZN, Fortune 500), which has been aggressively building out its Kindle platform and touting its "read anywhere" portability.
Amazon did not respond to a request for comment on Apple's app crackdown, and maintained its silence Tuesday when asked about Apple's subscription plan.
But others aren't staying so quiet. Online music provider Rhapsody, which currently makes its streaming service available on Apple's iPhones and iPads, fired off a scathing statement to several tech blogs.
"Our philosophy is simple too -- an Apple-imposed arrangement that requires us to pay 30% of our revenue to Apple ... is economically untenable," the company said. "We will be collaborating with our market peers in determining an appropriate legal and business response to this latest development."