Jerry Brown bans official California state trinkets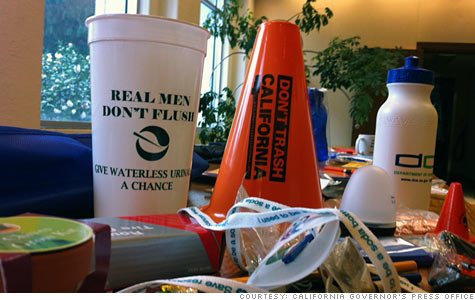 NEW YORK (CNNMoney) -- California Governor Jerry Brown is getting serious about his state's $25 billion shortfall. He has frozen state hiring, cut official cell phone use, and now, he's cracking down on coffee mugs and key chains.
In his latest push to close his state's staggering deficit, Brown has forbidden all state agencies from wasting tax dollars on freebie trinkets like hats and cups.
"Not a cent of taxpayer money should be spent on flashlights, ashtrays or other unnecessary items, most of which likely end up in landfills," Brown said in an official statement.
A government investigation revealed state agencies spent $7.5 million on pens and other gift items between 2007 and 2010. The Business, Transportation and Housing Agency was, by far, the biggest offender having spent $5 million. In contrast, the Department of Verterans Affairs spent just $4,968 on tchotchkes.
Ironically, some of that state swag urges Californians not to be wasteful. A plastic cup from the Environmental Protection Agency asks men to use waterless urinals to save water. And an orange traffic cone discourages littering.
The ban follows Brown's proposal earlier this month to slash $12.5 billion in spending and raise taxes by $12 billion in fiscal 2012.