Libya: Why the oil market is nervous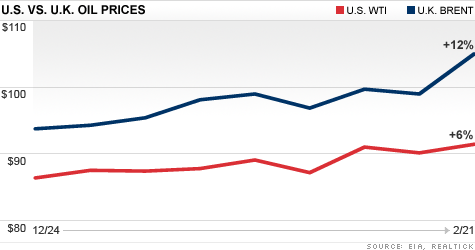 NEW YORK (CNNMoney) -- Libya is the first oil exporting nation to be engulfed in the political upheaval spreading across North Africa and the Middle East, and investors are worried that further chaos in the region will drive crude prices even higher.
U.S. oil prices soared more than 7% early Tuesday, coming within $2 of $100 a barrel. That's on top of the 6% surge on Monday. The price spikes follow violent protests in Tripoli, Libya's capital, that claimed an estimated 200 lives over the weekend.
The unrest is part of a wave of antigovernment protests that started in Tunisia earlier this year and spread to Egypt and other nations in the region.
Libya produces about 2% of the world's oil but is a major regional player. In 2010, the country produced about 1.65 million barrels per day, making it Africa's third-largest crude producer, according to the U.S. Energy Information Administration. It also supplies several hundred thousand barrels per day of natural gas and other liquid petroleum products.
In addition, Libya sits atop large reserves of oil and gas that have yet to be developed. Libya holds around 44 billion barrels of oil reserves -- the largest in Africa -- according to Oil and Gas Journal, an industry publication.
By contrast, Russia produces 10.1 million barrels per day, while the United States produces 9.8 million barrels per day, according to the Energy Information Administration. Saudi Arabia, currently observing OPEC production quotas, produces 8.57 million barrels per day. Those numbers include oil from ethanol, natural gas liquids and other products.
The world consumes 87.5 million barrels of oil day.
U.N. sanctions in place since 1992 had prevented most Western oil firms from operating in Libya after agents from the country's intelligence service were implicated in the 1988 bombing of Pan Am flight 103, which killed 270. The sanctions have left most of the country's natural gas reserves, along with a lot of its oil, fairly undeveloped.
The sanctions were lifted in 2004, after Libya said it was disbanding its nuclear program and finished cooperating in the Pam Am case. In 2006, the United States officially took Libya off its list of states that sponsor terrorism. That opened the door for renewed investment in the oil and gas sector.
While it only contributes a small percentage of world oil production, the spike in oil prices reflects concerns that the crisis in Libya could spread to other major oil exporting nations, said Ann Wyman, head of Middle East and North Africa research at Nomura Securities.
"The markets are responding to the uncertainty of how far this political unrest could spread, and whether other producing countries could be implicated," she said.
In particular, she said traders are watching the situation in Bahrain, where antigovernment protests could "spill over" into Eastern Saudi Arabia.
While a complete shut down of production in Libya is unlikely, Wyman warned that the situation there remains highly uncertain and could become even more unstable if the nation's leader, Moammar Gadhafi, is deposed.
Production at one oil field has already been reduced and there have been threats to shut down more of Libya's output, according to industry groups and analysts.
A report Monday by IHS Global Insight, an international intelligence and analysis group, said production has been curtailed at the Nafoora oil field due to a strike.
In addition, the al-Zuwayya tribe in eastern Libya is threatening to disrupt supplies if the government continues "its violent repression of civil unrest," said the report posted on the IHS Global Insight website.
"This is a concern that the markets will continue to grapple with," Wyman said.
But others suggest the spike in oil prices may be overdone.
"Although Libya is an OPEC member, it is still a relatively small player," said Julian Jessop, an economist at Capital Economics. Libya, he added, ranks ninth on the list of output among the 12 members of the Organization of Petroleum Exporting Countries.
"In principle, any shortfall on global markets could easily be offset by an increase in output from Saudi Arabia," he said, adding that the OPEC leader is currently producing 3 million barrels per day less than its estimated capacity.
Jessop said the rise in oil prices since last summer has been driven largely by increasing global demand, rather than political tensions or potential supply problems.
He did acknowledge that higher oil prices could further strain some struggling European economies, "but for the global economy as a whole it is just about manageable."
-- CNNMoney senior writer Steve Hargreaves and CNNWires contributed to this report.