Teachers under attack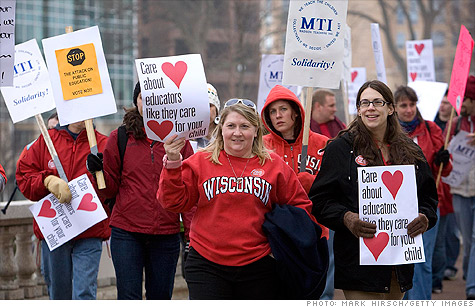 NEW YORK (CNNMoney) -- All across the nation, teachers are coming under attack.
Hundreds of thousands of school employees -- teachers, as well as aides, school nurses, librarians, administrators and bus drivers -- could lose their jobs in coming months, experts say.
And a growing number of governors and lawmakers are taking aim at teachers' right to collectively bargain.
Bills working their way through the legislatures in Tennessee, Indiana and Idaho would end or limit educators' ability to negotiate contacts collectively. In other states, such as Wisconsin and Ohio, public officials are looking to change the bargaining rights of all public workers, including teachers.
"Layoff notices are coming fast and furious because states are finding themselves in dire fiscal straits," said Kim Anderson, director of government relations for the National Education Association, which represents 3.2 million teachers and other school employees. "We are seeing an all-out national attack on workers' rights."
Losing jobs
Hundreds of thousands of school district jobs are on the chopping block.
Many education observers say the layoffs this year could be among the worst, especially with stimulus funding drying up and property taxes -- a major source of school funding -- on the decline in the wake of the housing bust.
In Texas, school finance experts are predicting as many as 100,000 school employees could lose their jobs, said Clay Robison, spokesman for the Texas State Teachers Association.
Facing a budget hole of as much as $27 billion, Texas lawmakers want to underfund the education system by more than $9 billion. If that happens and so many teachers are let go, schools will close, fewer electives will be offered and classrooms will get more crowded, Robison said.
"You'll have a lot of angry parents," he said.
Teachers and parents plan to rally in Austin next month to protest the cuts. Many are urging lawmakers to tap into the state's $9.4 billion rainy day fund to provide more money for schools.
Meanwhile, in Los Angeles, the school district is getting ready to send out layoff notices to 7,302 employees, including 4,485 teachers.
The district is looking at a $408 million budget deficit. School officials are hoping that the state legislature will hold a special election in June to extend a set of tax hikes that will expire on July 1. If voters approve the extension, the district will receive an additional $183 million.
The incoming school superintendent is also meeting with the unions. If staffers agree to a seven-day furlough, it will save $100 million. District officials are also hoping the unions will be willing to have workers pay a portion of their health care premiums. Right now, they contribute nothing.
If all this happens, the layoffs may be averted.
Union-busting
Some lawmakers and governors, however, don't want to deal with teachers' unions at all. By curtailing or eliminating collective bargaining, officials say they can more quickly hike employee contribution requirements to relieve some of the stress on the budget.
In Tennessee, a Senate committee recently approved a bill that would eliminate collective bargaining for teachers. The bill "will remove the albatross of mandatory collective bargaining from our local school districts," its sponsor, Senator Jack Johnson, said at a hearing last week. It's quite possible it will pass since Tennessee's legislature and governor's mansion are controlled by Republicans.
Teachers' union officials, however, say that eliminating collective bargaining will hurt the collaboration among teachers that's critical to school success. The contracts regulate class size, extra duties and the amount of time set aside for planning, said Gera Summerford, president of the Tennessee Education Association. Also, it provides procedures to deal with disputes.
The union is organizing a rally in early March against the bill.
Indiana teachers are also defensive after lawmakers introduced a series of bills that would affect their union. One Senate measure would restrict collective bargaining for teachers to wages and benefits only.
Senator Phil Boots, who sponsored the legislation, said he's trying to restore the original intent of collective bargaining -- making sure workers get a fair wage. Right now, unions have more power than they need, he said.
"Teachers should be teaching in their classrooms, not managing their schools," Boots said.
But educators feel they should have a say in school safety, class sizes and other issues, said Nate Schnellenberger, president of the Indiana State Teachers Association. The bargaining process allows teachers to give input on how to improve the learning environment.
"The bill will take away educators' right to have their voices heard," he said.