HP shares sink 12% on disappointing outlook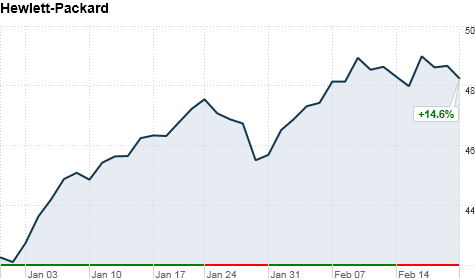 NEW YORK (CNNMoney) -- Hewlett-Packard disappointed investors on Tuesday with an outlook and sales that badly missed Wall Street's expectations.
As a result, shares of HP (HPQ, Fortune 500) fell 12% after hours.
The news served as a shot across the bow to investors who had been buying into HP as a likely turnaround story. Following CEO Mark Hurd's exit last summer, HP's stock became one of the biggest losers of 2010, falling 18%. But shares climbed back up 14% this year, prior to Tuesday afternoon's announcement.
HP will unveil its new strategy at a March 14 press event in San Francisco, HP CEO Leo Apotheker said Tuesday on a conference call with analysts. Apotheker said he will focus on detailing how the company can "leverage its strengths in the cloud" for both corporate customers and consumers.
"We have areas that we need to improve in through growth and operational excellence," he said.
HP announced last month that four of its board members would step down at the end of their terms, and the company would bring in five new directors.
Despite the looming strategy announcement, soaring profits, a buzz-worthy new tablet and new cloud ventures, investors instead focused their attention on sales and guidance that fell short of forecasts.
The company said sales for the fiscal first quarter, ended Jan. 31, rose 4% to $32.3 billion, missing analysts' forecasts of $33 billion.
HP said it expects to bring in $31.4 billion to $31.6 billion in revenue during the current quarter, and anticipates earnings per share in the range of $1.19 to $1.21, excluding one-time charges.
That outlook came in well under Wall Street's expectations of $32.6 billion in sales and a profit of $1.25 per share.
But it wasn't all bad news. Net income for the first quarter rose to $2.6 billion. That's up 16% from a year earlier.
Results included one-time charges of 19 cents per share. Without the charges, HP said it earned $1.36 per share. Analysts polled by Thomson Reuters, who typically exclude one-time items from their estimates, had forecast earnings of $1.29 per share.
Personal computer sales to businesses rose 11%, but PC sales to consumers dropped 12% in the quarter. Services also declined, posting a 2% sales drop. That unit has been in a perpetual slump since HP paid $14 billion for EDS in May 2008.
But HP's servers, storage and networking unit showed strength, with sales rising 22%. Printer sales rose 7%.
Last week, rival Dell (DELL, Fortune 500) reported that its profit more than doubled in the prior quarter on strong corporate demand and improved gross margins.