The PC ain't dead yet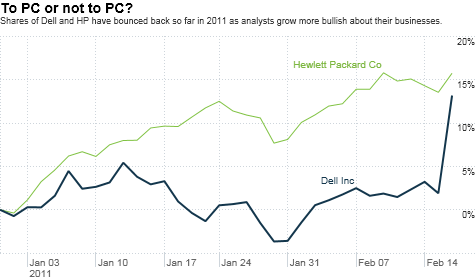 NEW YORK (CNNMoney) -- We all love our smartphones, tablets and other cool mobile devices. Personally, I can't wait for Apple to invent the iGlasses, which will download apps directly to my corrective lenses.
But guess what? Some people apparently still live in the 20th century and use personal computers. Imagine that!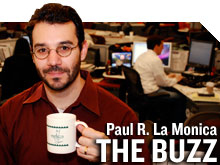 Dell, a tech company that many people have written off as being hopelessly stuck in the past, reported solid -- if not exactly blockbuster -- fourth quarter results Tuesday. Sales of desktop PCs rose 4% from a year ago.
Dell also issued decent guidance for this fiscal year -- and investors took notice. Shares of Dell (DELL, Fortune 500) surged 11% Wednesday.
Sure, it's tempting to dismiss this as a case of Dell surpassing extremely low expectations. There's a grain of truth to that: Dell is no Apple (AAPL, Fortune 500).
But Dell isn't the only company in the PC ecosystem (to use a terribly jargony word) that has caught the attention of traders lately.
A company called PC Mall, which as its name suggests is a direct marketer of PCs and other tech gadgets, also posted promising fourth-quarter results Tuesday. The company's earnings topped forecasts as sales rose 26%. Shares of PC Mall (MALL) shot up nearly 7% Wednesday afternoon.
Then there's Hewlett-Packard (HPQ, Fortune 500). It was the worst performing stock in the Dow in 2010. But its fortunes have reversed so far in 2011: Shares are up 16% year-to-date.
HP is on tap to report its latest quarterly results on February 22. Analysts are forecasting a sales increase of nearly 6% from a year ago and profit jump of more than 20%.
Of course, HP is more than just a PC company. But desktops, laptops and notebooks still play an important role, accounting for more than 30% of HP's total sales in its most recent quarter.
The other bit of good news for Dell and HP is that component costs for computers and other hardware products have come down sharply. Dell's sales growth was sluggish, but analysts raved about improved profit margins.
Abhey Lamba, an analyst with ISI Group in New York, pointed out that one thing that Dell seems to have learned (the hard way) is that pursuing market share at all costs by slashing the prices of its PCs may not be a good idea.
The PC business is never going to be a lucrative one in terms of margins. But profit margins don't have to be as razor-thin as they have been in years past.
"Dell held the line on pricing, and that helped them with profitability," Lamba said, adding that HP may enjoy a similar boost to margins.
Brian Marshall, an analyst with Gleacher & Company in San Francisco, said that companies like Dell and HP should continue to benefit from steady, albeit not spectacular, growth in their PC divisions.
It's a mature business that probably won't do much more than grow in the single mid-digits for the next few years, he conceded. But that's not the same thing as dead.
Barring some significant improvements in the near-term for iPads and all the other tablets flooding the market, Marshall thinks there will always be a need for PCs, be it desktops for cubicle-dwellers or notebooks for people on the go.
It's great to be able to read a book or newspaper on your iPad or watch a YouTube video or streamed TV show from Netflix on your Android phone. But sometimes people need to use their gadgets to, perish the thought, actually do work.
"The tablet is a great new computing device, but it can't completely replace PCs yet. It's a phenomenal mobile content viewer but it's a horrible content creator," Marshall said.
Dell and HP are trying to make waves in the tablet market too -- but they clearly face an uphill climb against Apple.
Jeffrey Fidacaro, an analyst with Susquehanna Financial Group in New York, said that some consumers may choose to buy tablets over PC. That's potentially a negative for HP and Dell.
However, he said both companies may be able to make up for some of the sluggish PC growth with increased sales of servers, storage and other hardware catered to big businesses, the proverbial "enterprise" customer.
And considering that the big business market appears to be one that Apple is less interested in, that means there should be plenty of growth opportunities for Dell and HP -- not to mention IBM (IBM, Fortune 500).
"Investors are still cautious about consumer PC sales," Fidacaro said. "But there is still a lot of strength in enterprise hardware. That market is still doing well because of corporate tech spending."
In other words, don't write Dell's corporate obituary just yet.
-- The opinions expressed in this commentary are solely those of Paul R. La Monica. Other than Time Warner, the parent of CNNMoney, and Abbott Laboratories, La Monica does not own positions in any individual stocks.