Oil briefly hits $100 - highest since 2008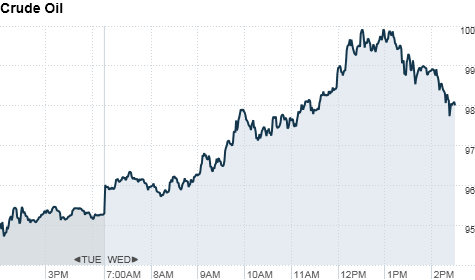 NEW YORK (CNNMoney) -- U.S. oil prices briefly hit the $100-a-barrel for the first time in over two years Wednesday, as reports of Libyan oil production shutdowns swirled.
Italian oil giant Eni said Wednesday that it had partially shut down its 150,000-barrel-per-day production in the North African country.
Andrew Lebow, an oil broker at MF Global in New York, said the unrest has already cut Libya's production by 300,000 barrels.
"But 300,000 barrels could be just the beginning," he said. "The situation is very chaotic and it's difficult to get good information, but the market is anticipating that more production will be lost."
Oil industry executives told the Financial Times that half of Libya's production has been shut down. But Eni said those reports couldn't be confirmed.
After hitting $100 a barrel earlier in the day, crude futures for April delivery ended the day up $2.68, or 2.8%, to $98.10 a barrel.
Brent crude, the European benchmark oil price, rose $5.72, or 5%, to $111.50 a barrel in extended trading.
Oil prices have surged this week as violence spread in Libya, the latest country to be swept up in a wave of anti-government protests that started earlier this year in Tunisia.
The rally continued Tuesday, as investors in the United States returned to work following the Presidents Day holiday and Libyan leader Moammar Gadhafi took a hard line -- insisting that he is still in power and cracking down on the opposition.
Libya, which exports 1.6 million barrels of crude per day, is the first oil exporting nation to be affected by the unrest in the Arab world. While it is the third-largest producer in Africa, Libya only provides 2% of the oil that the world consumes on a given day.
Prices have been driven higher by speculation that the unrest in North Africa could spread to oil rich nations in the Middle East.
"The market remains on edge that tensions will migrate across the Middle East, and toward major oil producer Saudi Arabia," said Tom Pawlicki, an energy analyst at MF Global. "A spreading of potential revolution elsewhere in the Middle East may continue to boost oil prices in the near-term."
The International Energy Agency, which was formed to protect against global energy supply disruptions, sought to ease those concerns Tuesday.
The agency said it has strategic stockpiles of 1.6 billion barrels of crude, adding that the Organization of the Petroleum Exporting Countries could also pump more oil if need be.
But analysts at Deutsche Bank said in a research report Wednesday that the amount of spare oil currently available in the world may not be enough to offset a widespread supply disruptions in the region.
"The market is rightly nervously watching the Gulf of Arabia situation," wrote Deutsche Bank analysts. "It now comprises the entirety of global oil production spare capacity; depending on your view of Venezuela and Nigeria."