Libya oil production grinding to a halt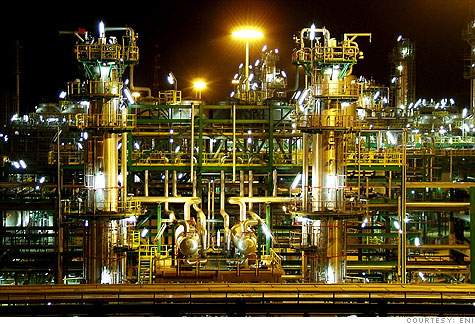 NEW YORK (CNNMoney) -- Oil production in Libya is shutting down as companies operating there begin to close facilities due to the ongoing violence.
Oil prices surged Wednesday, passing $100 a barrel, after a report in the Financial Times said half of Libya's production has been suspended. The report cited unnamed industry executives.
Italian oil giant Eni, the largest foreign oil company in Libya, and Spain's Repsol said they had suspended some of their production operations in the North African country.
An Eni spokesman declined to specify how much of its production has been shut in, saying that disclosing that information could jeopardize the remaining output.
"Certain oil and gas activities in the country have been temporarily suspended in a precautionary way," said the statement, released Tuesday. "Security measures on those facilities have been undertaken."
Eni (E) produces about 250,000 barrels a day from Libya, which has a total oil output of 1.6 million barrels per day. Worldwide oil consumption is pegged at 87.5 million barrels per day.
The largest oil firm in the country is the Libyan government-run National Oil Corporation, which could not be reached for comment.
Libyan leader Moammar Gadhafi was reported to have ordered his security services to sabotage oil facilities, according to Time Magazine Wednesday.
A U.S. official told CNN there is no evidence of that yet.
Spain's Repsol said the 34,000 barrels a day it produces in Libya are also shut in.
Other firms producing in Libya include Germany's Wintershall, part of BASF, Austria's OMV, and France's Total (TOT).
Winterhall is estimated to pump 100,000 barrels a day in the country, and Total around 60,000, according to Oil and Gas Journal. Reports Wednesday indicated at least part of that production was offline.
Business as usual: Other firms said production was continuing as normal.
U.S.-based Marathon (MRO, Fortune 500) told CNNMoney the 45,000 barrels a day it produces in Libya has not been impacted. Occidental (OXY, Fortune 500) said its 13,000 barrels a day are also still flowing.
Several of the major oil companies, including ExxonMobil (XOM, Fortune 500) and BP (BP), have recently signed leases in Libya but are still in the exploration stages and are not yet producing any oil in the country. Those leases, worth billions, may be in jeopardy if the Libyan government collapses.
Eni said the natural gas pipeline running under the Mediterranean from Libya to Italy, which supplies 10% of that nation's gas, has been shut off.
Eni says despite that, it is still able to meet its customers' demand for gas.
-- CNN Producer Adam Levine and CNNMoney producer Octavio Blanco contributed to this report