Economy faces new threats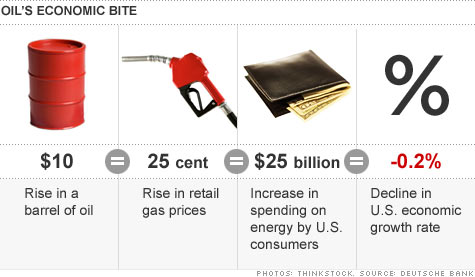 NEW YORK (CNNMoney) -- Just when the U.S. economy seemed to be getting its footing, a number of new obstacles risk tripping it up.
A spike in oil prices due to spreading unrest in the Middle East is the highest profile problem, but not the only one.
Economists are also worried about the push to cut government spending, the end of stimulus from the Federal Reserve and the bull market in stocks running its course.
While none of these factors might be enough to tip the economy back into a recession individually, "pile up enough headwinds and you're going backwards," said David Wyss, chief economist with Standard & Poor's.

Danger #1: Rising oil prices: The spike in oil prices has not only sparked a sell-off in stocks, it's made economists far less bullish about the strength of the recovery.
But most believe that oil prices at $100 a barrel isn't high enough to cause a problem.
"At $100, it's a significant problem, but it's not a killer," said Wyss.
Wyss said $150-a-barrel oil would be the problem level. Others put the tipping point closer to $120 or $125 a barrel. And uncertainty in the Middle East has many wondering how high it will go.
"The big geopolitical changes we've been seeing didn't stop with Tunisia, and didn't stop with Egypt. So maybe it's not a good idea to assume it's all going to stop with Libya, either," said James Hamilton, economics professor at the University of California-San Diego. "If there is a disruption for Saudi Arabia, it would be off the charts in its impact on the world economy."
But it is possible that oil is already at a level that will cause a new recession, although it could take months to know for sure, according to David Rosenberg, chief economist with Guskin Sheff. He believes the problem with this oil spike is that the economy, while growing, is still weak.

"When oil prices were ratcheting up to record levels a few years ago, unemployment was at 5%, not 9%," he said. "The Fed had ammunition left. There was still appetite for fiscal stimulus. There's nothing in the cookie jar today as an offset."
Danger #2: Sharp spending cuts: The push to cut government spending is another cause for concern.

Goldman Sachs put out a note Tuesday estimating that Republican spending proposals which would cut $61 billion between March and Sept. 30 could reduce economic growth by 1.5 to 2 percentage points in the second and third quarters.
And it said if there is a shutdown of the federal government, gross domestic product could be reduced by 0.2% for each week it lasts. A government shutdown is possible if there is no budget agreement by March 4.
"A shutdown lasting more than a week could be meaningful," said the note.
State and local budgets are also being slashed and that could hit growth hard in the second half of this year when new fiscal years start in most jurisdictions.
Danger #3: End of QE2: Economists are also wondering what will happen to the economy once the Federal Reserve stops pumping $75 billion a month into the economy with its purchases of Treasuries, a policy known as quantitative easing, or QE2.

As long as QE2 remains in place, it can provide support to markets, said Keith Hembre, chief economist for Nuveen Asset Management. But the program is due to end in June and that could reduce a key support for stock prices.
Danger #4: Falling stock prices: If the bull market that doubled the value of stocks in less than two years comes to a sudden halt, that would be another blow to the economy.
"That rally provided some extra wealth for folks that they were willing to go out and spend, especially for retirees and those at the upper end," said S&P's Wyss. "So a loss of wealth would be felt."