Better Place gets slammed in new report (updated)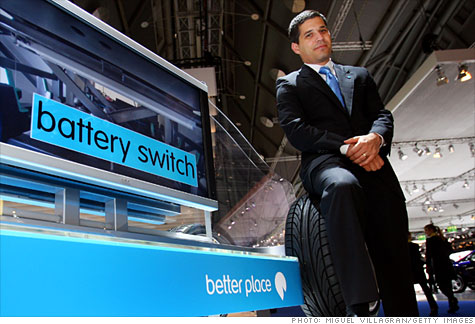 FORTUNE -- Remember Shai Agassi? He's the high-profile founder of Better Place who is trying to market a breakthrough technology for recharging electric vehicles.
Agassi has been energetically lining up venture capital investors and estimates he's raised $700 million so far. He's also signed up big name partners like General Electric (GE, Fortune 500) and France's Renault and struck deals with the governments of Israel, Denmark, and Australia to launch his venture. He's gotten ranked as one of Foreign Policy's 100 most influential global thinkers, as well as a guest spot on the Charlie Rose show.
At the center of Agassi's business is a plan to build battery-swapping stations where drivers can bring their electric vehicles when they need to recharge. Instead of plugging in, they would merely swap their depleted batteries for fully-charged ones.
It is a hugely ambitious plan, requiring investments not only in the charging stations but also in an inventory of batteries. Integral to the plan is a fleet of cars that have been specially engineered for swapping.
Daring in concept, the question about Agassi and Better Place has always been "do the numbers work"? A new study by the British consultancy Trend Tracker, first reported by the Detroit News, says they don't add up.
First off, Trend Tracker, which specializes in auto research, expects very slow adoption of electric vehicles. "Battery-only vehicles are too expensive and provide an unacceptably short range ... The economics of battery car use, with their limited life and high cost, will only appeal to rich, early adopters."
The report goes on to argue that Better Place's scheme requires an uneconomically high inventory of batteries. Since one battery has to be recharged overnight while another is in use, it reduces the battery utilization rate to 50%. As more EV brands come on the market with different battery configurations, even more inventory will be required.
To be sure, Better Place's automated swapping equipment is currently designed for a single vehicle, the Renault Fluence, but Agassi says different configurations won't be a problem, because Better Place will own the batteries. He adds that his controlled quick charge system means only 12-15 batteries need to be held as replacements at any time.
Trend Tracker wonders whether three minutes per vehicle would be enough time to swap batteries, as Agassi claims. Better Place has tested its swap technology with four taxis in Tokyo and says it can exchange one pack for another in 59 seconds, though the entire process takes three minutes. Agassi plans a more extensive test in San Francisco with 60 taxis a year from now.
The cost of the Better Place equipment creates another hurdle to profitability, according to the report's authors. They estimate that equipment required for each battery swap station is likely to cost around $1 million. Add to that the expense of roadside real estate for the stations, and it "may raise initial investment requirements to a level that affordable battery rentals may not be capable of recovering."
Then there's the additional risk of accelerated obsolescence in a fast-moving industry. "Such an elaborate system for servicing an immature technology is at particular risk of premature obsolescence," it said.
So don't look for a big payoff anytime soon, according to the report. "The risk for Better Place's investors remains apparently high; not only does it depend, to date, on just two allied manufacturers providing sufficient numbers of EVs compatible with its battery swap technology to support the requisite demand, but in many jurisdictions, the monopoly supply of such EV 'refueling' facilities may be rejected for legal reasons. The notion that battery exchange could actually supply enough customers profitably is questionable."
In fact, the initial momentum behind Better Place seems to be slowing. By now, according to press reports, Agassi expected to have five or ten more countries signed up, but only one, Australia, has joined him in the last three years. A pilot project is just getting under way in Hawaii. And Renault remains the only major automaker that has plans for a battery-swappable car. Nissan is merely a battery supplier. Agassi says he is working with China's Chery to develop a switchable prototype and is in discussions with others.
If Better Place fails to live up to the ambition of its promoters, some people are going to be embarrassed. In April 2008, Deutsche Bank analysts concluded that the company's approach could be a "paradigm shift" that causes "massive disruption" to the auto industry, and which has "the potential to eliminate the gasoline engine altogether."
Not in our lifetime, according to Trend Tracker. It figures that EVs are likely to remain very much more expensive and far less useful than their present-day conventional counterparts in the medium term.
It estimates EV production would need to increase by an average of two million units per year over 23 years to effectively electrify the global car market by 2050. Even if cumulative EV sales reached 30 million units by 2050, 99% of the world's car park would still be dependent on fossil fuels.
Updated 3/15/11: Consulting firm Trend Tracker has since revised the report mentioned in this article. See Researcher changes tune on Better Place.