Will office superstores be the next retailers to fall?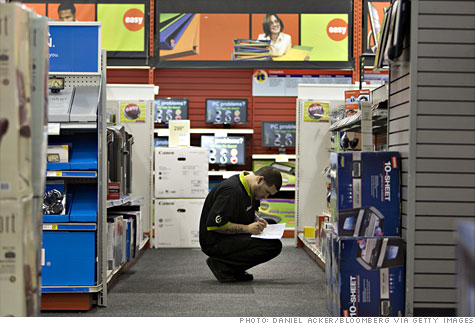 FORTUNE -- It doesn't take a financial analyst to sense when a retail chain is in trouble. You walk into a store, and it feels too big and bright, given the dearth of people in the aisles. Workers in polo shirts mill around aimlessly, waiting to pounce on the scant shoppers. You're only there because you couldn't wait for an online delivery and you don't live near a Wal-Mart or Costco.
If you visited a Circuit City, Blockbuster (BLOAQ), or Borders (BGP) in the years leading up to their closures, you would have felt that sense of unease. All were large, niche retailers, and all were crushed by the rise of the mass merchants or the Internet -- Circuit City now exists online only, while Blockbuster and Borders are in Chapter 11 bankruptcy.
Now those same threats are looming over the office supply giants, leaving analysts divided over whether or not the big three chains -- Staples (SPLS, Fortune 500), OfficeMax (OMX, Fortune 500), and Office Depot (ODP, Fortune 500) -- are in a short-term slump or a permanent one.
To be sure, those companies don't have the same balance sheet troubles that sent their big-box cousins into bankruptcy. But their performance during the recession -- and so far, during the recovery -- has been lackluster at best. While other retailers have rebounded, the office chains are still reporting flat or declining sales growth at stores that have been open at least a year. Analysts expect Staples, widely viewed as the best performer in the group, to announce little to no growth in same-store sales on Wednesday when it reports earnings.
According to the latest Census data, office suppliers' sales fell 4.8% in December, their biggest drop since January 2010. The market has punished the sector accordingly. Though shares of the three companies rebounded a bit in 2010, they are still down an average of 20% over the last 12 months, while the S&P 500 is up 20%.
The Wal-Mart effect
Because the office supply sector is so closely tied to the unemployment rate -- itself a lagging indicator -- its sales are often slow to bounce back after economic downturns. But some analysts say that the historical connection between jobs and office products isn't bearing out this time. In recent months, they say, job growth has outpaced office sales, signifying deeper problems for the sector.
In a February note titled "Signs of Paradigm Shift," Goldman Sachs (GS, Fortune 500) analyst Matthew Fassler announced that he was cutting the firm's exposure to office supply stocks due to "secular headwinds to cyclical recovery."
One of those headwinds is the rise in retail competition -- one-stop mass merchants like Wal-Mart (WMT, Fortune 500), Costco (COST, Fortune 500), and Target (TGT, Fortune 500). Amazon (AMZN, Fortune 500) is also an adversary -- many of the products sold in the office retailers' brick and mortar outlets are available online, which enables customers to comparison shop.
Some analysts say that threat is overstated, because the incursion of the mass merchants and the Internet doesn't pose as big of a threat to the office sector as it does to, say, bookstores. While office suppliers may lose fickle individual customers to new rivals, they can maintain a stronghold on small business owners. As a result, even if their aisles are no longer bustling with back-to-school shoppers, they're still drawing higher volume customers.
"If you need a wide selection of office supplies, you're not going to be well served by the mass merchants," says Michael Lasser, an analyst at Barclays Capital. The office superstores, he says, offer busy business customers more depth, as well as simplicity.
The Dunder Mifflin effect
The other secular shift isn't competitive, but behavioral: Paper usage is in decline. This affects the contract, or delivery side of the superstores' business. Staples, OfficeMax, and Office Depot derive about half of their revenues from those operations, which sell in bulk to other companies.
Paper itself isn't hugely lucrative, but it does drive sales of other products -- ink, staples, printers, etc. Consequently, its shrinking usage could pose a big problem for the superstores. In a survey of office supply purchasers at large companies, Goldman Sachs found that nearly half of the respondents expected their paper consumption to drop. Reasons range from environmental concerns to double-sided printing to the advent of mobile technology.
But Joe Feldman, an analyst at the Telsey Group, says that while it's true that paper consumption is falling, the speed of its decline is exaggerated. And besides, he adds, the office chains have made forays into other product lines in order to reduce their dependence on paper. "Staples is pretty aggressively trying to grow its janitorial and break room business," he says. "They're going to get into technology."
Lasser, the Barclays analyst, says structural problems like retail competition and declining paper usage won't impinge upon the sector for years to come. "I think those are very slow-emerging secular issues -- issues that won't offset an improvement in the economy," he says.
Why, then, are the superstores lagging the economy? In a recent note, J.P Morgan analyst Christopher Horvers pointed out that, while the U.S. has generated nearly one million jobs over the last year, the jobs that are most correlated with office suppliers' sales -- manufacturing, finance, and hospitality jobs, among others -- have only recently begun to reappear.
Horvers forecasts a mid-year recovery, noting that, based on his analysis of employment data, "we are on the cusp of growth."