What gas spike? Americans still hungry for SUVs, pickups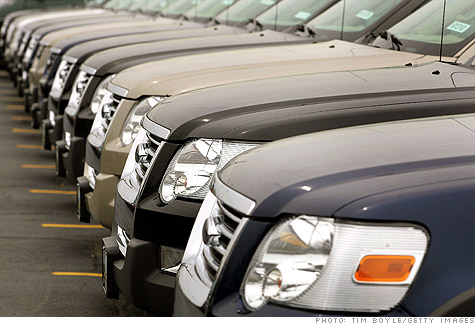 NEW YORK (CNNMoney) -- Rising gas prices did not keep Americans from buying large pickups and SUVs in February, according to sales results from leading automakers.
Industrywide U.S. auto sales shot up 27% compared to a year ago according to sales tracker Autodata. That's well above forecasts of about a 19% increase. The sales rate was the best since the Cash for Clunkers program, and at that pace, sales could reach 13.4 million vehicles over a full year.
The month was particularly strong for the sale of light trucks, such as pickups, vans and SUVs, even in the face of higher gas prices. Truck sales rose 32% and had the best sales rate since before the financial meltdown.
"We're seeing consumer demand coming back stronger than we anticipated, along with loans and leases becoming easier to get," said Jesse Toprak, analyst with TrueCar.com.

Toprak said the two types of vehicles getting the most attention from buyers are small cars and full-size trucks, demonstrating that while fuel economy is becoming more important, there's still a lot of pent-up demand for larger vehicles.
The increase in gas prices isn't making the impact on buyers it did even a few years ago, said Paul Ballew, chief economist for Nationwide Financial.
"Keep in mind, we reset our expectations. Five years ago, $3 a gallon was 'Oh my goodness.' Now it's more of a norm," he said.
The real benchmark is more like $4 a gallon, according to Sergio Stiberman, CEO of LeaseTrader.com. He pointed to a survey of those turning in leased trucks, which showed only 16% did so because of high gas prices in February, compared to 78% in summer 2008, when gas hit a record $4 a gallon.
"During the uptick, concerns and complaints heat up when we pass certain price benchmarks, but widespread behavior doesn't actually change until we reach $4.00 per gallon," he said.
AAA's estimate for the average price of a gallon of regular gas stands at $3.375, up 9% in the last month. The price hikes are accelerating as unrest in the Middle East raises crude oil prices, causing a 6% rise in just the last week.
General Motors (GM) reported sales jumped 46% from a year earlier, with strong demand for the Silverado pickup truck leading the way. GM's top-selling pickup posted a 60% gain in sales, and an 84% increase in retail sales to consumers.
"There's a lot of speculation about what fuel prices will do for pickups, but these people are buying for needs," said Don Johnson, GM's vice president, U.S. Sales Operations. "I don't see that slowing."
GM executives said they're also seeing strong demand for small cars. Sales of the Chevrolet Cruze were up 32% compared to year-ago sales of the Cobalt model it replaced. And 46% of overall Chevrolet sales were 4-cylinder models, up 6 percentage points from a year ago.
But Johnson said he doesn't think gas prices at this level will eat into industrywide sales, and that even a steady rise in gas prices should leave sales relatively unscathed. He's more worried about a sharp price spike that will put some buyers on the sidelines.
"Nobody knows what will happen with fuel prices for sure, other than the fact that there will be volatility," he said.
Sales gains were more modest at Ford Motor (F, Fortune 500) and Chrysler Group, but both reported strong sales in some large pickup and SUV models. Ford sales rose 14%, helped by a 139% jump in sales of its redesigned best-selling SUV, the Explorer. The strong demand has resulted in a shortage of Explorers in showrooms.
George Pipas, Ford's director of sales analysis, said that while there was an increase in small-car sales in the first two months of the year, new offerings in the segment likely had as much to do with the shift as gas prices did.
Ken Czubay, Ford's vice president in charge of U.S. sales, said even truck buyers are becoming more conscious about mileage, with 30% of Ford's truck sales now fuel-efficient six-cylinder vehicles rather than the traditional eight-cylinder engine.
Chrysler Group reported a 13% gain in sales, almost entirely due to the 81% jump in sales among its Ram truck brand. The redesigned Jeep Grand Cherokee SUV also posted a 31% increase in sales.
Toyota Motor (TM) reported a 42% jump in sales, despite a new problem with recalls. Improved sales in small cars were a key element, with the Prius hybrid posting a 70% sales increase. The company was also helped by a 57% rise in SUV sales and improved sales of its Tundra full-sized pickup.