How gas spikes 6 cents in one day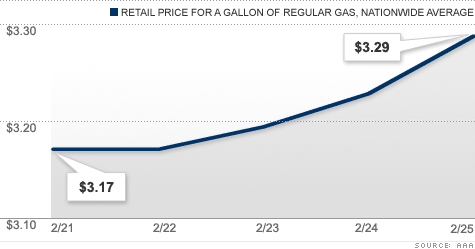 NEW YORK (CNNMoney) -- Gas prices spiked 6 cents Friday, the biggest one-day jump in two years, and drivers are probably wondering how prices can rise so much in such a short period of time.
Sure, oil prices surged past $100 a barrel Thursday in the wake of violence and protests in the Middle East. But the gas you're pumping at the station was probably made two or three weeks ago, when U.S. crude was trading in the high $80s.
So why the 6 cent jump?
Current gas prices aren't pegged to how much it cost refiners to make the gallon going into your car. They're pegged to what it will cost them to replace the gallons you're consuming.
Refiners sell gasoline and other products at pipeline terminals and barge ports scattered around the country. There are about 350 terminals where gas gets picked up for distribution and this is where wholesale prices are set.
The oil used to produce a gallon of gas may have cost the refiner $85 but the price of that gallon of gas will depend on the price of oil at the time of sale.
"If a refiner sells that gallon, what will it cost him to replace it the next day," said Brian Milne, refined fuels editor at Telvent DTN, an information provider. "The market is dictating these prices, it's not a retailer or wholesaler trying to gouge."
When gas prices go up, motorists generally blame the gas station. In fact, the recent spike has been quite tough for station owners. While retail prices have risen 12 cents, wholesale prices have surged 19 cents -- jumping 13 cents on Wednesday alone.
"Gas station owners are miserable, and they still haven't passed on all the price increases," said Tom Kloza, Chief oil analyst at the Oil Price Information Service. "They would love to see prices drop."
Station owners actually make their money when prices are on the way down -- when they can buy the replacement gas for a cheaper price than they are selling the stuff that's stocked in their tanks, Kloza said.
U.S. crude out of whack
Astute market watchers may have become suspicious when gas prices spiked at the same time as U.S. oil prices. But U.S. oil prices aren't the whole story.
U.S. prices were depressed by a glut in supply and began their surge just in the past week. But worldwide oil prices had already been rising for over a month.
Gasoline consumed here is made from oil that comes from all over the world, so just watching U.S. prices doesn't yield a clear picture of why gasoline has become so expensive.