Bernanke: Inflation risk 'modest'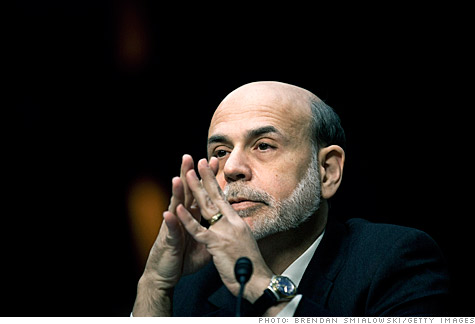 NEW YORK (CNNMoney) -- In his twice yearly testimony to Congress Tuesday, Federal Reserve Chairman Ben Bernanke acknowledged surging oil and food prices, but said that inflation would likely remain tame.
"My sense is that the increases we've seen so far -- while tough for many people -- do not yet pose a significant risk to the overall recovery," Bernanke said.
Speaking before the Senate Banking Committee, Bernanke noted that rising commodity prices will likely be passed on to consumers, but this effect would be only "temporary and relatively modest."
But he acknowledged that if higher prices persist, inflation could become a serious risk. "Sustained rises in the prices of oil or other commodities would represent a threat both to economic growth and to overall price stability," he said.
The Fed projects inflation of less than 2% for each of the next three years.
Since the recovery began, the Federal Reserve has struggled to communicate its efforts to balance a somewhat schizophrenic economy.
Company earnings are improving and stocks have nearly doubled over the last two years. But businesses still aren't hiring, the housing market has show few signs of life, and surging energy and food prices are hitting both businesses and consumers.
In his prepared testimony, Bernanke defended the Fed's latest controversial methods of stimulating the economy.
In November, the Fed embarked on its second round of so-called quantitative easing, dubbed QE2, which is meant to boost business activity and consumer spending by keeping interest rates low and injecting $75 billion into the U.S. economy each month.
But he has recently come under fire for the policy, as critics argue it could boost long term inflation. Now that energy and food prices are rallying, the pressure on Bernanke has intensified.
On Tuesday, he repeated his claims that a wide range of upbeat market indicators show that the Fed's recent actions have been effective.
"We have all the tools we need" for "a smooth and effective exit at the appropriate time," said Bernanke, adding that the central bank is also ready and able to tighten monetary policy when needed.
When it comes to employment, the Fed chairman noted that the one million jobs established since the recovery began were barely enough to accommodate the inflow of recent graduates and other entrants to the labor force.
"Until we see a sustained period of stronger job creation, we cannot consider the recovery to be truly established," he said.
Bernanke also repeated calls for Congress to deal with its growing budget deficit over the long term. When asked whether he thought the deficit was the number one problem facing the economy, Bernanke answered yes.
He avoided endorsing either party's agenda, but did say recent criticism about Republicans' proposed $60 billion in budget cuts may have been overblown.
A report by Goldman Sachs last week claims the budget cuts could reduce economic growth by as much as 2 percentage points over two quarters, whereas Bernanke said the effect would be more like "several tenths" of a percentage point.

Bernanke also didn't offer specific proposals on spending cuts or tax increases, but did stress the need for reforming the tax code and raising the debt ceiling.
The government is currently restricted to a $14.294 trillion cap on how much it can borrow, and Treasury Secretary Tim Geithner has warned that level could be breached as soon as April 5.

"Not increasing the debt limit is like saying you're going to solve your family's debt problems by not paying your credit card bills," Bernanke said.
The Fed chairman traditionally speaks before Congress twice a year, defending the central bank's latest policies, in a formal testimony formerly known as the Humphrey-Hawkins reports.
-- CNN Senior Producer Scott Spoerry contributed to this report.