Gov. Scott Walker unveils Wisconsin budget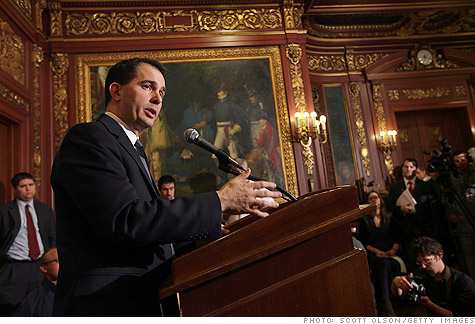 NEW YORK (CNNMoney) -- Three weeks after igniting a firestorm of protest from unions, Gov. Scott Walker introduced a budget Tuesday that would slash more than $1.25 billion from aid to schools and local governments.

Walker stressed that the aid won't be missed if the legislature votes to severely curtail public employees' collective bargaining power. That's because school districts and local governments will be able to raise workers' contributions to their health care and pensions, saving a total of $1.5 billion.
The governor, who took office in January, is contending with a $3.6 billion deficit in the state's 2011-13 biennium budget. He has pledged to plug the hole without raising taxes, which means cutting spending and leaning on state workers.
"We need a leaner and cleaner state government," Walker said in his budget address to lawmakers. "As we decrease spending, we also increase flexibility so local government and state government have the tools to deal with reduced revenue."
Wisconsin has been roiled by protests in recent weeks as teachers and public workers seek to save their collective bargaining rights.
The uproar began when Walker introduced a "budget repair bill" in mid-February that sought to close a $137 million shortfall for the current fiscal year by preventing most public employees from collectively bargaining on anything but wages. And it would require them to contribute much more toward their medical premiums and retirement accounts.
Union leaders have said they are willing to pay more toward their benefits, but they will not give up their ability to bargain. Workers then descended on the state capitol in Madison, captivating the nation's attention.
The bill remains stuck in Wisconsin's Senate because its Democratic delegation has fled to Illinois, denying the Republican majority the quorum needed to vote. Walker urged the missing lawmakers to return home.
Big budget cuts
Calling his state "broke," Walker crafted a budget that slashes spending by $4.2 billion, or 6.7%. The cuts fall heavily on school districts, counties and municipalities because state aid to them eats up more than half the budget.
State aid to schools would plummet by $834 million, or 7.9%, while districts would be prevented from raising property taxes. The governor estimates that schools will save $1 billion from increasing employee benefit contributions.
Local governments, meanwhile, would see their aid reduced by $96 million, or nearly 11%.
Walker would also cut the state's Medicaid budget by $500 million. He would require certain enrollees to contribute toward their premiums and pay a portion of their medical services.
Meanwhile the University of Wisconsin-Madison would be reorganized into its own entity with a separate board of trustees. That would give the campus more flexibility to allocate resources and set tuition. Overall, though, Walker's budget reduces aid to the public higher education system by $250 million.
Some 21,325 full-time state positions would also be eliminated under Walker's proposed spending plan. Most of the reductions would come from the University of Wisconsin-Madison reorganization.
The budget, however, also includes some areas of investment. Walker wants to put $5.7 billion into the state's transportation system.
"That's money that will create jobs -- now -- and in the future," he said in his speech before the state legislature.
And he is proposing to eliminate capital gains taxes for investors in Wisconsin companies that provide jobs and to provide tax relief for employers who boost their payrolls.
Big assumptions
Walker, however, is making some big assumptions in his budget-balancing plan, experts said.
While the state could shave $300 million off its employee costs by boosting contribution levels, there's no way to know how much local governments will save from doing the same. Several unions have settled contracts recently that don't include increased benefit payments.
"He can't control what goes on at the local level," said Todd Berry, head of the Wisconsin Taxpayer Alliance, a non-partisan research group.
Municipalities, counties and schools would have to make cuts across the board to deal with the reduced state aid. School districts would likely lay off personnel and increase class sizes, while local governments would curtail public safety, parks, libraries and other services.
"It will be really tough to find those kind of cuts that the voters won't notice," said Dan Thompson, executive director of the League of Wisconsin Municipalities.
Although Walker wants to grow the state's economy, his spending plan could ultimately hurt its prospects, said Andrew Reschovsky, a professor of public affairs at University of Wisconsin, Madison. Mixing revenue increases with spending cuts would be less likely to do long-term harm, he said.
The budget now goes to the state legislature, where lawmakers may make changes. Republicans in both houses have stood behind Walker as protesters try to get the collective bargaining measure removed from the discussions. They have the votes needed to approve Walker's recommendations as soon as the Democrats return to Madison.