Gold still cheap? Don't laugh.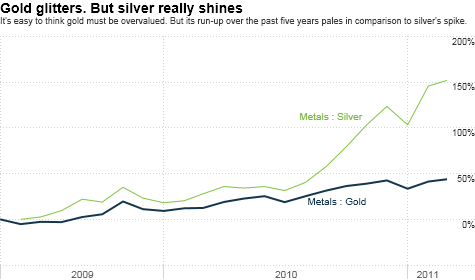 NEW YORK (CNNMoney) -- Gold bugs rejoice. The yellow metal is at a record high. And guess what? It's probably going to keep climbing higher until oil prices finally come down.
Here's why. Gold and oil tend to trade in tandem. Many of the same factors that drive up oil prices, i.e. inflation fears, a weak dollar and geopolitical turmoil, also help lift gold.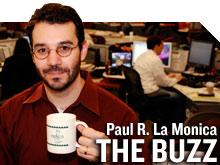 Gold, even at the absurdly high sounding price of nearly $1,440 an ounce, might even be considered a tad undervalued when compared to oil.
I first wrote about the ratio between gold and oil prices over two years ago. Typically, it's considered healthy for gold to trade around 15 times higher than the price of oil. So with crude right around $102, gold could be fairly valued at $1,530.
With this in mind, Richard Ross, global technical strategist with Auerbach Grayson, a brokerage firm in New York, said he would not be surprised if gold went as high as $1,527 an ounce before long.
Of course, oil could (and as I argued Tuesday, should) drop once the crisis in the Middle East abates. But that's a process that's likely to unfold over a period of weeks, if not months.
Ross also noted that gold looks relatively attractive when compared to silver. Gold is currently trading at about 40 times the price of silver. That's cheap on a historical basis, Ross said.
He said that the last time the ratio was consistently this low was in 1998. And even then gold was still trading at closer to 50 times the price of silver.
Ross argues that gold may need to catch up. Using silver as a gauge, he said you could easily justify a price of over $1,630 an ounce.
"Silver is the Robin to gold's Batman. If you like silver, you kind of have to like gold as well," he said.
When you look more closely at gold versus silver or even more industrial metals like copper, the spike in gold is tame in comparison.
It may sound like gold is insanely overvalued because of sticker shock. Silver, after all, is only about $35 an ounce. Copper's at $4.50 a pound.
But over the past two years, gold prices have increased by about 50%. Silver, on the other hand, has shot up more than 150%. Copper has more than doubled too.
"When I look at a gold chart, this doesn't look like a bubble. It doesn't look like the Nasdaq in 1999 or housing prices in 2006. It's been a methodical rise up," Ross said. "And just because something has gone up doesn't mean it can't or won't keep going up."
Marshall Berol, co-manager of the Encompass Fund in San Francisco, a mutual fund that is currently investing heavily in commodity-producing companies, agreed.
Berol said that if the dollar weakens further, foreign central banks will increasingly look to diversify their investments. And he thinks gold is the best alternative.
"For the past decade, gold has been in an uptrend and we think it continues," he said. "We're bullish but not foolish. Having said that, gold at $1,600 to $1,700 over the next 12 months doesn't seem unreasonable."
Terry Hanlon, president of Dillon Gage Metals, a precious metals trading firm based in Dallas, added that he thinks gold is popular among investors because people have become more savvy and realize there are numerous long-term economic challenges that make gold attractive versus paper currencies.
Speculation or fear due to what's going on in Libya may be a part of the recent spike in gold. But it's not the whole story.
"People are looking for hard assets. Yes, the current situation in the Middle East is compounding matters," he said. "But sovereign debt issues around the world are not going away. They are long-term problems with no quick immediate solutions."
Hanlon is even more bullish on gold than Ross and Berol. Although he did not provide a timeframe, he said gold at $2,500 an ounce and silver at $75 would not be ridiculous.
He added that demand from emerging markets like China will only drive metal prices higher. Again, it's not about fear as much as it is economic reality.
"Gold is an investment that helps protect other assets," he said. "I'm not a believer that the world's coming to an end. But buyers of gold aren't just people panicked thinking they will have to go into a cave with fractional coins and canned food."
Libyan vs. Saudi oil and a shout-out to a corporate cousin. A few readers wrote in to me about Tuesday's column on oil and were disappointed I did not mention that replacing Libyan oil with Saudi Arabian oil is not as easy as it sounds because the quality of Libyan oil is higher.
That is true and I apologize for not making that distinction. Several sources also did point that out to me yesterday. Still, even if you take that into account, I'm not sure that this in and of itself is creating enough of a real supply scare to justify the big jump in crude prices.
Moving back to gold, the run-up in the metal inspired me on Tuesday to ask my Twitter followers to identify the following song lyric. "Look at Mother Nature on the run in the 1970s." The usual incentive was a shout-out in the Buzz, a reward that is undoubtedly worth even more than its weight in gold.
The song is "After the Gold Rush" by Neil Young. The winner, amusingly enough, was the Twitter account for Money Magazine.
Of course, there's a flesh-and-blood person behind that feed. And it's none other than Money senior writer George Mannes, who confessed to remembering "waaay too many song lyrics from the early 1970s."
-- The opinions expressed in this commentary are solely those of Paul R. La Monica. Other than Time Warner, the parent of CNNMoney, and Abbott Laboratories, La Monica does not own positions in any individual stocks.