200,000-mile Toyota Prius keeps on going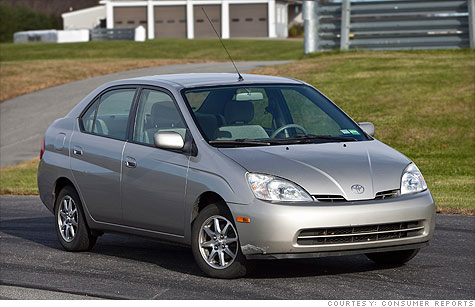 NEW YORK (CNNMoney) -- One of the big worries about buying a hybrid car like the Toyota Prius is the possibility that the big, expensive battery pack will have to be replaced after a few thousand miles.
Recent tests and owner surveys by Consumer Reports magazine indicate that Prius owners don't need to worry about that too much.
The magazine recently tested a Prius with 207,000 miles on it. The car was still in the hands of its original owner so editors were confident the car had been maintained reasonably well, driven normally and, most importantly, still had its original battery pack.
The warranty on a Prius battery pack is good for 8 years or 100,000 miles.
To find out what 207,000 city and highway miles had done to the car's hybrid batteries, Consumer Reports engineers put the aged Prius through the same series of performance and fuel economy tests they administer to new cars.

Then they compared the results to those of a virtually identical Prius that had been tested when it was new.
How did the older Prius perform? The 200,000-plus-mile Prius performed almost exactly the same as a comparable new Prius. Overall fuel economy, city and highway combined, suffered by just two-tenths of a mile per gallon.
The old Prius got from zero-to-60 in 13 seconds, less than half second slower than the new car.
Consumer Reports owner surveys also show that battery replacements are rarely needed on the Prius, said Fisher.
Battery problems, while still far from a regular occurrence, are more common on the Honda Civic Hybrid, according to Consumer Reports surveys. That car has garnered owner complaints about premature battery failure, despite having overall "Above Average" dependability.
In the worst case scenario -- if the Prius' battery does go out after the warranty lapses -- it won't cost a lot to replace, said Fisher.
While a brand new battery will run about $2,200 to $2,600, according to Consumer Reports, there's no need to actually to pay that kind of money.
"I found them all over the place at salvage yards for $500," said Fisher.
With almost a million on the road, plenty of Priuses fall victim to various mishaps and end up in scrap yards with relatively young batteries. Given the car's demonstrated longevity, Fisher said, even a battery that's gone 30,000 miles still has plenty of life left.