Electric Rolls-Royce to be unveiled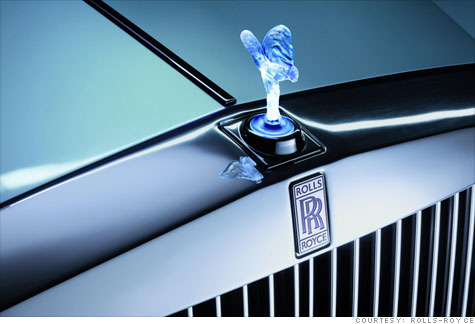 NEW YORK (CNNMoney) -- Rolls-Royce has always gone hand-in-hand with "green," just not the environmental kind. But now, earth-conscious millionaires wanting to cruise in luxury may be intrigued by an all-electric Rolls-Royce Phantom to be unveiled at the Geneva Motor Show on March 1st.
So far, there are no plans to produce the 102EX, as it's called, for consumers. This will be strictly an experimental car, Rolls-Royce said.
The car will be used to research range and performance as well as to gauge public reaction to the whole idea of an electric Rolls-Royce, the automaker said.
"I must be convinced that any alternative drive-train we choose for the future delivers an authentic Rolls-Royce experience," Rolls-Royce CEO Torsten Müller-Ötvös said in an announcement.
The gasoline-powered Rolls-Royce Phantom production car is an extremely large, heavy and expensive automobile. With a base price of $380,000, the standard gasoline-powered Phantom weighs a little over 5,500 pounds -- almost as much as a Chevrolet Tahoe full-sized SUV -- and is powered by a 453-horsepower 6.8-liter V12 engine. It gets 11 miles per gallon in city driving and about 18 on the highway, according to EPA estimates.
Among the Phantom's available options are a back seat refrigerator with a matched set of crystal tumblers and a crystal decanter. The car also comes with large silver and wood tray tables for the use of back seat passengers and silver-handled umbrellas that are stored in special drying compartments accessible as the back doors are opened.
It's not clear, yet, if the 102EX would have the full compliment of Rolls-Royce luxury accessories. Full details and specifications of the 102EX will be announced on March 1st, Rolls-Royce said.
Rolls-Royce is a subsidiary of the German luxury carmaker BMW, which also owns the British compact car brand Mini. Both BMW and Mini have previously launched experimental fleets of electric cars.
BMW also announced Monday that it is launching an electric car subsidiary called BMWi. The new subsidiary will launch in 2013 with two vehicles, the BMW i3, a small "city car," and the BMW i8, a high-performance plug-in hybrid car.
Both cars will have bodies made from aluminum and carbon fiber-reinforced plastic, BMW said.
The automaker also set up a New York-based venture capital fund, BMW i Ventures, with an initial $100 million investment. BMW i Ventures will seek out technology partners for BMW, the automaker said.