Charlie Sheen, the Twitter pitcher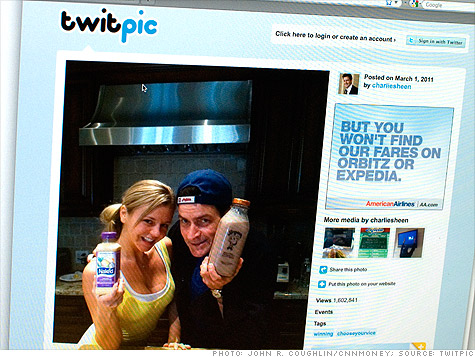 NEW YORK (CNNMoney) -- Charlie Sheen, who recently joined the ranks of the unemployed, has found a new way to make a living: endorsing products through Twitter.
Sheen, the controversial actor, joined Twitter earlier this week and instantly became an online sensation, garnering more than one million followers to his feed in the first day.
That's a lot of eyeballs, and the power of this renewed attention became obvious when Sheen posted a photo of himself with one of his girlfriends, Rachel Oberlin. In the picture, Sheen was holding a bottle of chocolate milk from Broguiere's Farm Fresh Dairy in Montebello, Calif., and Oberlin was holding a bottle of Naked Juice.
Broguiere's dairy, a family-run business for more than 90 years, has been inundated with phone calls and media attention since the picture was posted, according to owner Ray Broguiere.
"I'd like to shake his hand," said Broguiere, referring to Sheen, who he did not pay to advertise. "We've gotten some new business and a lot of phone calls. We even had a guy from India asking where he could buy the milk. It's good advertisement."
Broguiere said this isn't the first time that Sheen has been photographed while prominently displaying his product, which has even been featured on Sheen's recently suspended television show, "Two and a-Half Men." But the attention to his product, which is available only in Los Angeles, really boomed after the Twitter post.
"It shows you the power of product placement," said Brad Adgate, advertising expert and research director for Horizon Media.
Naked Juice spokeswoman Rebecca Herbst said her company does not have any relationship with Charlie Sheen or Rachel Oberlin, and they were not compensated for pitching the company's product.
Arnie Gullov-Singh, chief executive of Ad.ly, a company that facilitates celebrity endorsements via Twitter and Facebook, said Sheen approached them for help when he set up his Twitter account. Gullov-Singh said that his company serves about 1,000 celebrities who need help managing their Twitter and Facebook accounts.
Sheen's agent Liz Dalling told CNNMoney that he typically gets paid $1 million for endorsements, but that she hasn't discussed with him the possibility of paid endorsements via Twitter.
Ad.ly helps some of these celebrities, including realty television star Kim Kardashian and rapper Snoop Dogg, establish endorsements with companies, which pay them to tweet about their products. These payments range from $200 to $25,000 per tweet, said Gullov-Singh.
"We've been fielding calls from brands who are interested [in Sheen,]" said the chief executive, though no deals have been signed yet.
Sheen, a star of films and TV series since the 1980s, has monopolized the media spotlight since the recent cancellation of "Two and a-Half Men," a top-rated television comedy. Sheen was paid at least $1 million per episode, but the future of the show -- in its eighth season -- is unclear.
CBS (CBS, Fortune 500) had endured his scandalous encounters with drug rehab, porn actresses, the police and his soon-to-be ex-wife. But it finally dropped him when he insulted the show's creator with a comment that bordered on anti-Semitism.
This behavior made Sheen even more famous, or infamous, as he conducted a series of television interviews bragging about his use of cocaine and his two live-in girlfriends, while claiming to have cured his drug addiction single handedly.
Adgate said this behavior cost Sheen an endorsement deal with Hanes underwear last year, but it has also boosted his fame. Potential advertisers must balance fame with infamy when they decide whether to court Sheen to advertise their products, he said.
"Every advertiser has a different threshold of tolerance,"said Adgate. "Some advertisers probably don't want him endorsing any of their products."
Broguiere, the dairy owner, declined to discuss whether Sheen's behavior cast a shadow over their product.
"I've got no comment on his personal life," he said. "All I can say about the guy is that he's got darn good taste in milk."