Gold sets another record high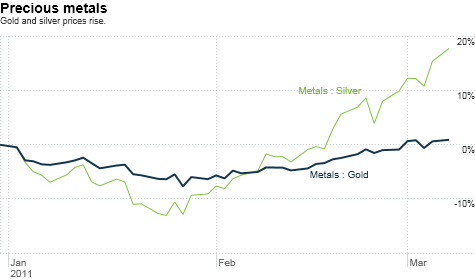 NEW YORK (CNNMoney) -- Gold prices rose to a record high Monday as the political turmoil in Libya boosted demand for tangible "safe-haven" assets such as precious metals.
April gold futures closed at a record high, rising $5.90, or 0.4%, to $1,434.50 an ounce. Earlier in the session, gold prices hit an intraday record high of $1,445.70 an ounce.
"Gold prices have made new all-time highs...as investors flock toward the safe haven against geopolitical and inflationary fears," said Janney Montgomery Scott analyst Dan Wantrobski in a report.
In Libya, fighting between rebels and forces loyal to Libyan leader Moammar Gadhafi continued to exact heavy tolls Monday, with an estimated 1,000 to 2,000 deaths so far.
The strife in Libya follows relatively non-violent uprisings in Tunisia and Egypt earlier this year. Other countries in the region have also been shaken by protests, including Yemen, Oman and Bahrain.
The unrest has pushed oil prices sharply higher in recent weeks as investors worry that supplies could be disrupted from crude exporting nations. Gold prices often rise when the global political and economic outlook turns cloudy, since precious metals are seen as safer bets than stocks or bonds in times of uncertainty.
In addition to geopolitical concerns, gold has been supported by worries about rising inflation.
Gold is seen as a hedge against inflation because the metal tends to hold its value when consumer and wholesale prices rise.
With inflation rates already spiking in some developing economies, some investors worry that the combination of low interest rates in the U.S. and the Fed's quantitative easing plan will cause inflation to spike.
Silver prices were also stronger Monday, rising 75 cents to $36.07 an ounce. That's up over 17% from the start of the year.