Oil tests $107 a barrel, then falls back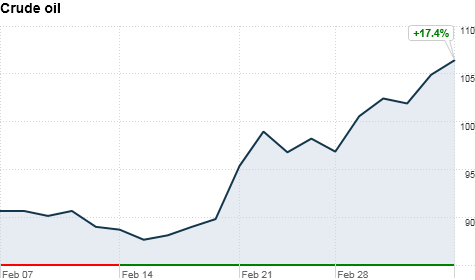 NEW YORK (CNNMoney) -- Oil prices closed 1% higher, as the violence in Libya continues to unsettle the market.
The benchmark U.S. contract, West Texas Intermediate, for April delivery gained $1.03, or 1%, to settle at $105.44 a barrel. The contract rose to a high of $106.95 a barrel earlier in the session.
However brent crude, the main European contract, fell 77 cents to $115.18 a barrel.
Oil prices rose nearly 7% last week as fighting between rebels and forces loyal to Libyan leader Moammar Gadhafi escalated. The weeks-long conflict showed no sign of abating Monday, with death toll estimates now ranging from more than 1,000 to as many as 2,000.
The International Energy Agency estimated Friday that roughly 1 million barrels per day of Libyan oil have been taken off the world market so far, even as some crude shipments have resumed. Libya exported 1.6 million barrels per day in 2010.
Saudi Arabia and other members of the Organization of the Petroleum Exporting Countries have pledged to increase production to make up for any lost oil due to unrest in Libya.
But many investors are concerned that the anti-government movement that toppled long-standing governments in Egypt and Tunisia earlier this year could destabilize oil-rich nations in the Middle East. That could further disrupt the supply of crude oil to the world market.
Tom Pawlicki, an energy analyst at MF Global, said in a research report that oil prices could get a boost ahead of a "day of rage" protest scheduled to take place in Saudi Arabia on Friday.
In Washington, meanwhile, there is increasing talk about accessing the nation's strategic petroleum reserves.
Treasury Secretary Tim Geithner told lawmakers Thursday that the U.S. and other nations are prepared to tap back-up oil reserves if Libya unrest continues and severely disrupts oil supplies. However, no official decision has been made.
Despite the supply concerns, many analysts point out that crude stockpiles in the United States and elsewhere remain relatively flush, suggesting that the recent rally in oil prices is driven by speculation.
-- The CNN Wire Service contributed to this report.