Gas prices continue climb, up 34 cents in 13 days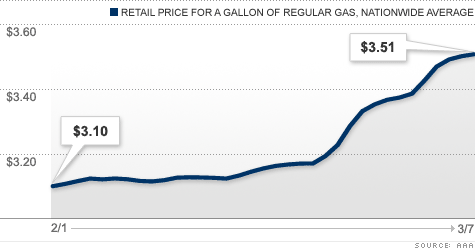 NEW YORK (CNNMoney) -- Gas prices continued to rise Monday, driven higher for nearly two weeks straight by the turmoil in Libya, with analysts expecting prices to keep climbing.
The national average price for a gallon of regular gasoline rose six tenths of a cent to $3.509, according to a daily survey by motorist group AAA.
Gas prices have increased for 13 days in a row, rising nearly 34 cents in that time.
The highest gas prices in the nation are in California, where drivers pay an average of $3.897 a gallon. Prices were also above $3.80 in Hawaii and Alaska.
Montana had the lowest gas prices at $3.186 a gallon, on average. Wyoming was a close second with an average cost per gallon of $3.189.
Gas prices vary widely from state to state based largely on local tax rates. But prices have been trending higher nationwide following a rise in the price of crude oil, the main ingredient in gasoline.
Oil prices rose above $106 a barrel Monday, hitting a fresh 2-1/2 year high, as the violence in Libya appears likely to drag on for some time.
Peter Beutel, president of energy risk management firm Cameron Hanover, told CNNRadio that he expects gas prices to continue moving higher.
"I expect that the average is going to be something around $3.75 or $3.80 a gallon," he said.
He said prices will probably remain below $4 a gallon in most parts of the country, barring any widespread political unrest in the Persian Gulf.
On Sunday, the separate Lundberg survey showed that gas prices increased nearly 33 cents in a two-week period, the second-biggest price jump in the history of the gasoline market.
-- CNNRadio's Richard Benson contributed to this report.