Tap the Strategic Petroleum Reserve? Why?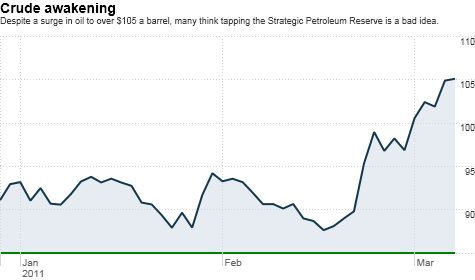 NEW YORK (CNNMoney) -- Gas prices are alarmingly high. But perhaps the only thing more troubling than their rapid rise is that politicians are now wondering if the United States should tap the Strategic Petroleum Reserve to try and force prices lower.
White House Chief of Staff William Daley hinted on Sunday's "Meet The Press" show on NBC that the administration was looking at all options to deal with the recent energy price spike, including a limited drawing down of some of the oil in reserve.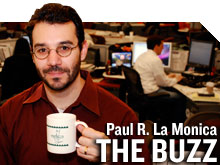 That comes after several Democratic Senators, including Jay Rockefeller of West Virginia and Jeff Bingaman of New Mexico, called for President Obama to consider releasing oil from the reserve.
Treasury Secretary Timothy Geithner also said last week that the U.S. was prepared to act and tap the SPR if necessary.
But that could be a big mistake for one significant reason. This isn't really a crisis yet. Yes, oil and gas prices have surged due to unrest in Libya but there hasn't been much impact on global supply as of yet. Instead, what's going on reeks of speculation.
This isn't like the last time the U.S. tapped the SPR back in 2005. That followed a huge surge in oil and gas prices in the wake of Hurricane Katrina, which did actually wreak havoc on production in the Gulf of Mexico.
Despite all the worries about supply disruption, the U.S. still is not facing any shortage. In fact, it's the exact opposite.
"If you really look at the inventories in the U.S., frankly we're oversupplied," said Blake Fernandez, an analyst who covers shares of integrated oil companies and independent refiners for energy research firm Howard Weil in New Orleans.
According to the most recent figures from the Department of Energy, the stockpile of oil is 1.4% above levels from last year. Fernandez added that according to his firm's estimates, inventories are 4% above their 5-year average.
Tapping the SPR is short-sighted, said David Pursell, managing director with Tudor, Pickering, Holt & Co., a Houston-based investment bank focusing on the energy industry.
Pursell said he recognizes that lawmakers must be getting angry calls from anxious constituents about gas prices. But that's not an excuse to do something without fully thinking about the consequences
"Outside of Washington, this plan doesn't make sense," Pursell said. "But we don't have a shortage of crude, just a fear of a shortage. So where would you put the oil you release from the SPR?"
Fernandez added that releasing oil from the SPR is not only unnecessary, it does nothing to solve the bigger problem: a heavy reliance on foreign oil. He said more drilling domestically could help lessen the need for crude from the Middle East.
Or to quote Daniel Day Lewis' maniacal oil baron Daniel Plainview in "There Will Be Blood": "There's a whole ocean of oil under our feet!" (Thought I was going with "I drink your milkshake!" didn't you?)
"If I had to suggest a move on the part of the U.S., it would be to open up drilling more in the Gulf of Mexico and Alaska as opposed to putting stockpiled inventories on the market," Fernandez said. "Drilling is more of a long-term solution."
Some experts also worry that tapping the SPR would send the wrong message, namely that the U.S. is acting out of desperation.
"The Strategic Petroleum Reserve is more of a last resort. We're not at a last resort yet. It's as simple as that," said Jason Pride, director of investment strategy with Glenmede, a money management firm in Philadelphia.
It's also questionable how much of an impact there would be. For one, the SPR isn't THAT big. According to information on the Department of Energy's website, it's about 727 million barrels. That's significant but only accounts for about two and a half months of protection.
What's more, the impact from releasing oil from the SPR would not be immediate. The DOE says the maximum drawdown per day is just 4.4 million barrels and that it would take nearly two weeks after a decision is made to tap the SPR before that oil actually hits the U.S. market.
Pride said he's hoping that the mere mention of tapping the SPR is enough to lead some speculators to pare back on their oil bets. He said that talking tough is a tactic that the Fed and other central banks often use about interest rates. So why not politicians regarding oil and gas?
"I think people in Washington are trying to just calm things down," Pride said. "Jawboning the financial markets has an impact and it's often efficient because you don't have to effectively do anything other than make some dramatic statement."
Whether or not the SPR talk does take any of the speculative froth out of the energy markets remains to be seen. But Pursell said that politicians have to remember the SPR is really there for an emergency. Releasing oil now may be particularly worrisome because a legitimate supply crisis may yet unfold in Africa and the Middle East.
"Having that oil in our hip pocket in case there is a real supply disruption is a good idea. And the chances of that have risen dramatically in the past few weeks," said Pursell. "It's the Strategic Petroleum Reserve, not the Hey, Oil Prices are High Reserve."
-- The opinions expressed in this commentary are solely those of Paul R. La Monica. Other than Time Warner, the parent of CNNMoney, and Abbott Laboratories, La Monica does not own positions in any individual stocks.