Starbucks at 40: No mid-life crisis for stock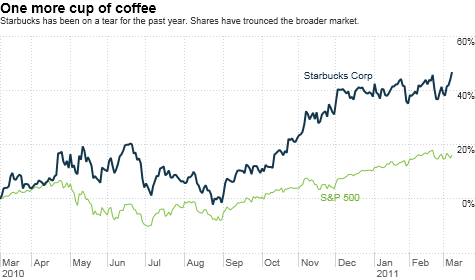 NEW YORK (CNNMoney) -- Starbucks is celebrating its 40th anniversary this week with a new logo and lots of other fanfare.
Investors should be happy too. Shares of Starbucks have been on a caffeinated tear as of late. The stock has surged nearly 45% in the past year.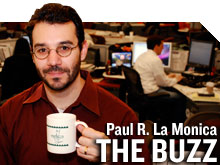 Still, are shares of Starbucks (SBUX, Fortune 500) now as pricey as many of the company's beverages? (I kid because I love. I'm a sucker for a Venti Chai Latte with skim milk even if it means I have to part with an Abraham Lincoln for it.)
The comeback for Starbucks has been stunning. I last took an in-depth look at the company in July 2008. At that time, Starbucks was a stock that only a contrarian deep-value investor could love. The headline of the column was "Wishing on a fallen Starbucks."
There was a lot of skepticism about whether Starbucks could rediscover the magic growth beans -- even with Howard Schultz back at the helm. Many thought Starbucks was a mature company whose best days were behind it.
A lot has changed since then. Starbucks, like most other consumer stocks, got crushed during the worst of the Great Recession.
But since they hit a low of just above $7 a share in November 2008, Starbucks has nearly quintupled, skyrocketing about 345%. By way of comparison, the S&P 500 is up 75% during the same time frame.
"The evolution of Starbucks since Schultz came back has been nothing short of remarkable," said said R.J. Hottovy, an analyst with Morningstar in Chicago.
So it's tempting to say that shares of Starbucks are ripe for a fall. After all, coffee prices are rising and Starbucks has acknowledged it will have to raise the prices of some beverages to account for higher commodity costs.
That could hurt demand. And won't consumers cut back even more on expensive coffee if they are paying more at the pump for gas? Perhaps.
Nonetheless, analysts say it's not a good idea to bet against Starbucks given all that Schultz has done in the past three years.
First and foremost, Schultz made the painful, but necessary decision to cut back on underperforming stores.
That was key since it was able to boost Starbucks' sagging margins and refocus Starbucks on real growth, particularly in countries where it hadn't yet saturated the market. Plopping a store on every corner of every major U.S. city just because they could was no longer viable.
Nicole Miller Regan, an analyst with Piper Jaffray in Minneapolis, said she thinks the company is still not getting enough credit for the turnaround in profit margins. And she thinks margins have not yet peaked.
As a result, she believes the stock could hit at least $40 a share, which is about 17% higher than current levels.
But it's not been just about cutting costs. In the past few years, Starbucks under Schultz has also found new opportunities for growth. Its Via instant coffee -- which will soon be coming to China -- has been a huge success.
"Yes, I'd be wary of the stock a little at these levels. But there is a lot of momentum -- especially if they have continued success with consumer packaged goods and international growth," Hottovy said.
Last year, Starbucks also announced it would finally begin offering free Wi-Fi services to all of its customers in the U.S., a move to help keep people from fleeing not only to local coffeehouses already catering to the laptop crowd, but also to McDonald's (MCD, Fortune 500).
The company also decided last year to end its relationship with Kraft Foods (KFT, Fortune 500), which had been distributing Starbucks-branded coffee to grocery stores, so that Starbucks could take this over in-house.
There has been a legal dispute over the termination of this deal. But Bill Smead, manager of the Smead Value Fund in Seattle, thinks Starbucks made the right move.
"Starbucks is going to be a powerhouse in grocery stores, Wal-Marts and Targets over the next few years," Smead said. Starbucks is one of his fund's top holdings.
Starbucks also appears eager to tackle the high-growth single cup market, a business currently dominated by K-Cup maker Green Mountain Coffee Roasters (GMCR).
Starbucks announced a deal earlier this year to work with Courtesy Products, a company that makes the CV1 coffee maker, to bring single-cup Starbucks packets to hotel rooms.
Hottovy thinks other partnerships, perhaps even with Green Mountain, are likely.
"I am confident Starbucks will be a major player in the single cup market. People I speak to at Starbucks say that the Via can be repackaged into single-serve packets pretty easily," he said.
Finally, Smead noted that Starbucks isn't getting enough credit for its Seattle Best brand, which is currently offered in Burger King and Subway restaurants.
"You get growth from Seattle's Best and that doesn't detract from the main brand at all," Smead said.
Add all that up and it's hard to bet against Starbucks.
Sure, shares look less and less like a Venti-sized bargain each day the stock heads higher. It now trades at about 23 times earnings estimates for this fiscal year, which ends in September.
But analysts are forecasting earnings growth of 16% this year and 18% in fiscal 2012. That's incredibly impressive for any company selling a commodity product --- let alone one that's also now four decades old.
"I think that over the next 10 to 20 years, what Schultz has done in the past few years will be used at business schools as a case study for how to turn around a big firm," said Smead.
-- The opinions expressed in this commentary are solely those of Paul R. La Monica. Other than Time Warner, the parent of CNNMoney, and Abbott Laboratories, La Monica does not own positions in any individual stocks.