Rent a movie - on your Facebook page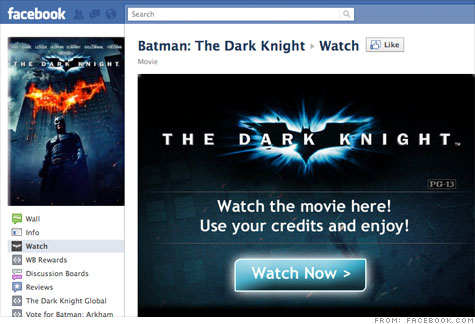 NEW YORK (CNNMoney) -- In a bid to get more eyeballs on its movies, one major studio is looking to turn Facebook into a movie-streaming service.
Warner Bros. Digital Distribution said Tuesday it will offer The Dark Knight for rental through its Facebook page. More movie titles will be available for rental or purchase over the coming months.
Rentals cost 30 Facebook Credits, or $3, and users can watch the movie up to 48 hours after purchase. Facebook continues to function normally during movie-watching.
In a prepared statement, Warner Bros. Digital Distribution president Thomas Gewecke pointed out Facebook is a "daily destination" for millions and said the move "is a natural extension of our digital distribution efforts."
For its part, Facebook said the program is being driven solely by Warner Bros. and that it's "open to developers and partners that want to experiment using Credits in new and interesting ways."
Still, the deal could be lucrative for Facebook, which receives a 30% cut of all revenue from Facebook Credits. Facebook confirmed the terms are the same for Warner Bros. movie rentals.
If more studios follow suit, it could put Facebook squarely in competition with streaming-video behemoth Netflix, as well as other major players -- and the market's getting crowded. Last month alone, Amazon (AMZN, Fortune 500) announced free streaming video for Prime customers and rental kiosk company Redbox said it is planning its own streaming service.
Meanwhile, Hulu continues building its audience, and Apple (AAPL, Fortune 500) and Google (GOOG, Fortune 500) offer streaming video on their connected television services.
Despite the growing competition, Netflix (NFLX) is currently maintaining the lion's share of the market -- though Facebook's massive user base and social features could be a threat.
Netflix said in January that it now has 20 million subscribers, which is a 63% increase from the same period last year. Netflix now has more than 6% of the U.S. population subscribing to its service. Netflix linked the increase to the popularity of its streaming video, and said the subscriber growth will allow it to invest more in that content.
Warner Bros. is a division of Time Warner, which is also the parent company of CNNMoney.