Rising gas prices hit Mississippi the hardest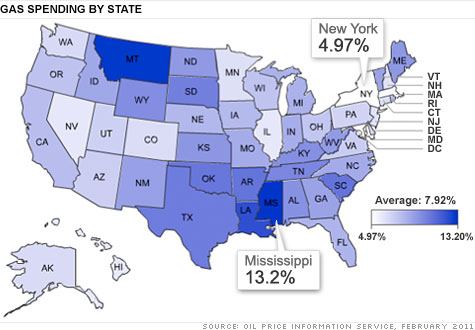 NEW YORK (CNNMoney) -- Hey California, stop whining about $4 gas. As gas prices have surged 13% over the last month, Mississippi is feeling the worst pain at the pump.
Sure, Californians pay some of the highest gas prices in the nation at $3.92 per gallon. But for economic reasons, the Magnolia State has it much worse, even with prices at $3.42.
Families in Mississippi are the lowest paid in the country, and yet they spend the highest portion of their income on gas, according to new data from the Oil Price Information Service.
"When you live in California or New York, where things are close by and there's public transit, that's great -- but we don't have those options here," said Hilary Hamblin, a Tupelo, Miss. resident who said her family typically spends about 10% of their monthly income on gas alone.
That's not uncommon in the state. Mississippi families earn a median household income of about $37,000 -- the lowest in the country -- but spend a whopping $402 per month, or 13.2% on gas.
In contrast, Californians earn a median of $59,000 per household, and spend about $380, or 7.8% of their income on gas each month.
The Mississippi economy is already grappling with high unemployment and low high school graduation rates -- which keep local incomes down. Add in a history of racial inequality, which still affects the economy -- and that makes Mississippi one of the poorest states, said Marianne Hill, senior economist with the Center for Policy Research in Jackson, Miss.
Rural populations are hypersensitive to rising gas prices, Hill said, not only because they usually have lower incomes, but because they drive longer distances to work, school and shopping.
"It has a big impact, and particularly hits a rural state like Mississippi hard because so many people have to commute," Hill said.
Tracy Lewis and her husband own a chain of auto body shops in Hattiesburg, Miss., and often spend more than $40 a day filling up the tank of their company van. But that's not all. Rising gas prices are also affecting the company bottom line in other ways.
"When gas prices go up so do our paint, materials and supplies," she said. "It's killing us and others around us from many angles."
Meanwhile, one of the richest states, New York, is the least affected by rising gas prices, even though its fuel is the fifth most expensive in the country. New Yorkers boast a median household income of $55,000 but spend only 5% -- or about $225 per month -- on gas, as many residents use public transit instead.
How are higher gas prices affecting you and your community? Tell us about it and you could be included in an upcoming story on CNNMoney.com.