In surprise, China reports trade gap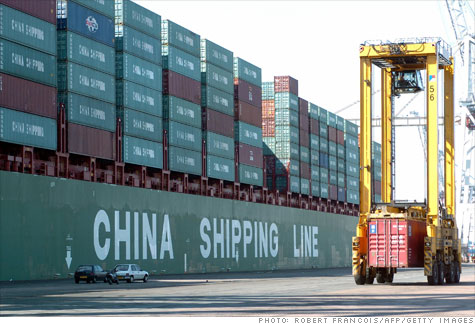 NEW YORK (CNNMoney) -- In an unexpected development, China on Thursday reported a $7.3 billion trade deficit in February as imports soared and exports rose only slightly.
Government officials attributed the cooling exports to Chinese New Year, when the country's manufacturing output slowed dramatically.
Economists had expected China to report a trade surplus in February, albeit a smaller one. The monthly deficit was the country's first since March 2010.
Imports last month totaled $104 billion or 19.4% higher on an annual basis, and exports were $96.7 billion or 2.4% higher, according to China's General Administration of Customs.
The Chinese government has said that it's trying to rebalance its trading relationships by encouraging more consumption within its borders. Domestic consumption is growing at a 20% year-over-year rate.
Experts had anticipated that the holiday, which creates widespread work stopages, would be a factor.
"Factory shutdowns around Chinese New Year will make it hard to come to any firm conclusions about the strength of February's numbers," Mark Williams, senior China economist for Capital Economics, said in a research note.
Some observers speculate that China could be fudging the numbers in response to criticism from the United States and other developed nations.
China's turn to a trade deficit was remarkably quick, considering China's surplus stood at $27.1 billion as recently as October.
The fact that China typically exports more goods than it imports has become a sore point in Washington as the United States struggles with a massive trade deficit.
"What irks the United States is that they don't buy more stuff from us," said Carl Weinberg, chief economist at High Frequency Economics.
A few hours after China's latest data was released, the U.S. government reported its trade deficit widened to a five-month high of $46.3 billion in January, as imports grew faster than exports. The U.S. data lags a month behind China's figures.
As President Obama tries to double U.S. exports by 2015, Treasury Secretary Tim Geithner and other American policymakers have strongly urged China to allow its currency, the yuan, to appreciate.
U.S. officials argue China is keeping the yuan artificially undervalued, making its exports cheaper in the international marketplace and giving its manufacturers an unfair advantage over American factories.
Still, some argue that the U.S. is fighting an uphill battle. American consumers want the cheap products that China delivers, Weinberg said. As incomes for Chinese consumers rise, why would they pay more for American-made goods?
"We don't want to buy the stuff we produce for U.S. consumers -- why should they?" he said.
--CNN's Helena Hong in Beijing contributed to this report.