Taking down the Apple and Google smartphone duopoly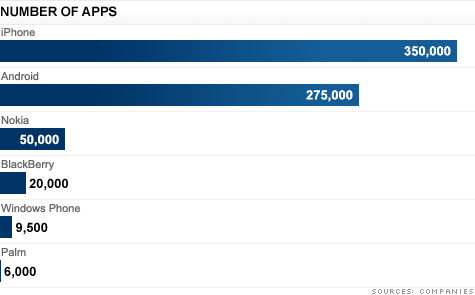 NEW YORK (CNNMoney) -- If apps were taken out of the equation, would you consider buying a Palm Pre? What about a BlackBerry Torch? Or a Windows Phone?
Today, a smartphone is really only as good as the applications that run on it. And despite what Nokia (NOK) CEO Stephen Elop says, that battle has really become a two-horse race between Apple (AAPL, Fortune 500) and Google (GOOG, Fortune 500).
The iPhone App Store has 350,000 apps, and the Android Marketplace has 275,000. Their next biggest competitor, Nokia's Ovi Store, has 50,000 apps. Research In Motion's BlackBerry App World, has just 20,000 apps, and distant rivals Windows Phone 7 and HP's WebOS have fewer than 10,000 offerings in their app stores.
It follows that the iPhone and Android devices are the hottest on the market. Google recently took over the top spot among smartphone operating systems in the United States, as BlackBerry and Microsoft are falling fast. HP's WebOS is a distant fifth.
But a new consortium of mobile carriers, developers and manufacturers called the Wholesale Application Community (WAC) is looking to shake up the landscape by introducing applications that will work across all devices and carriers. If WAC gets its way, the same apps would work on a Verizon (VZ, Fortune 500) iPhone, a T-Mobile Windows Phone, a Sprint (S, Fortune 500) BlackBerry or an AT&T (T, Fortune 500) Android device.
WAC is made up of 68 members, including companies that -- not surprisingly -- have a lot to gain in the smartphone market, like Hewlett-Packard (HPQ, Fortune 500) and Research In Motion (RIMM).
It's equally unsurprising that Google and Apple are not part of WAC.
The group started at Mobile World Congress in Barcelona in 2010 and launched its application store technology at this year's event, which was held last month.
Samsung and LG announced at the show that all of their smartphones will be able to run WAC applications, and Ericsson said that it is launching a white-label WAC app store that wireless carriers can customize and use as their own.
WAC says there are currently "thousands" of WAC applications available in app stores, "including many popular applications and content that end users are downloading today" -- though the consortium wouldn't elaborate further.
The benefits are potentially enormous for consumers. Gone would be the days of fragmentation, where apps work differently on different devices -- or not at all on others.
For developers, it means that they can focus on building just one application rather than three or four iterations of it, which can take a considerable amount of time, resources and programming knowledge. Applications for Apple's iOS are typically built in a programming language called Objective C. But for Windows Phone, you need Microsoft's .NET framework. Writing for Android, BlackBerry OS and WebOS requires coders to master entirely different frameworks.
WAC's solution for "write once, run anywhere" applications is HTML5, the emerging Web standard that can be understood by the browser on any device, regardless of its operating system.
Though still a work in progress, HTML5 will let developers create in the browser experiences that currently require stand-alone apps or additional software like Java, Adobe's Flash or Microsoft's Silverlight. It supports lightning-fast video and geolocation services, among other bells and whistles.
Crucially, HTML5 can also be used to build applications that work offline. That means Web-based applications can still function in areas with no connection. Gamers, for instance, can continue playing uninterrupted even if their device loses its signal.
That means programmers will be able to build mobile apps that look and feel like the ones you're used to today -- but on the back-end, they'll be built around one standardized platform, instead of the profusion we have today.
It sounds great, but there are some hurdles to its success.
First, WAC apps can't take advantage of a phone's hardware specifications, because they need to be written for all devices. For instance, WAC applications couldn't make use of the iPhone's gyroscope, the LG Optimus 3D screen or the Motorola Atrix's dual-core processor.
Even an application like Angry Birds, which reflects the idiosyncrasies of each different operating system it runs on, wouldn't be easily WAC-enabled.
That means the quality of WAC applications is limited -- something developers won't necessarily buy into.
"There's a reason why Apple is dominating the app universe," said Scott Schwarzhoff, vice president of marketing at Appcelerator, an application development platform company. "The iPhone enables extremely rich, powerful apps, and every June Steve Jobs opens 1,000 new capabilities."
Many of those problems can eventually be solved with good software, Schwarzhoff said.
But the biggest challenge remains: getting Apple, Google and their developers on board.
That won't be easy. But experts say it's not entirely out of the question, either.
"Applications are tied to the popular and dominant platforms, and there's no incentive for those companies or their developers to change course right now," said Jeffrey Hammond, analyst with Forrester Research. "But it will happen eventually. Walled gardens tend to become their own worst enemies."