U.S. trade deficit widens sharply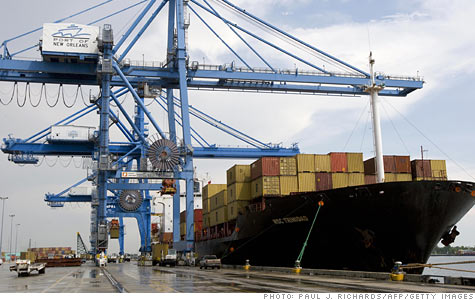 NEW YORK (CNNMoney) -- The U.S. trade deficit widened to a five-month high in January, as imports surged across a variety of sectors, far outpacing exports.
The trade balance, which measures the difference between the nation's imports and exports, grew to a $46.3 billion deficit in January, up from $40.3 billion in December, the Commerce Department said Thursday.
That number was much larger than economists' estimates for a $41.5 billion deficit, as imports grew more than expected.
Exports totaled $167.74 billion in January, a rise of $4.4 billion from the month before. But imports totaled $214.08 billion, or $10.5 billion more than in December.
On one hand, some economists say stronger import growth means Americans are consuming more goods -- and that's good news for the U.S. economy.
"The deficit showed a massive widening, but the numbers actually imply a very healthy economy," said Joseph LaVorgna, chief U.S. economist for Deutsche Bank.
"This wasn't an oil story," LaVorgna said. "The gain in imports was in every category. Domestic demand is still very firm and producers are rebuilding their inventories."
But others argue a wider deficit is bad news no matter what the cause, because it points to greater imbalances in the world economy.
"The trade deficit means Americans are living beyond their means. They're not making the goods they want to consume," said Peter Morici, a University of Maryland professor and former chief economist at the U.S. International Trade Commission.
Morici points specifically to the trade gap between China and the United States, which is the world's largest. In January alone, China exported $23.7 billion more in goods and services to the United States than it imported from Uncle Sam.
That gap has recently become a point of contention for American policymakers ranging from Treasury Secretary Tim Geithner to Sen. Chuck Schumer, who argue China is giving its manufacturers an unfair advantage by keeping its currency, the yuan, artificially low.
An undervalued yuan floods the international market with cheap, subsidized Chinese goods, said Morici -- who argues that this unfair playing field cuts three million American jobs a year.
The U.S. data comes on the heels of the latest trade data from China, which reported a surprise $7.3 billion trade deficit in February. But economists suspected this figure may be distorted due to the temporary closing of factories during the Chinese New Year festivities earlier in February.