Oil prices fall near $101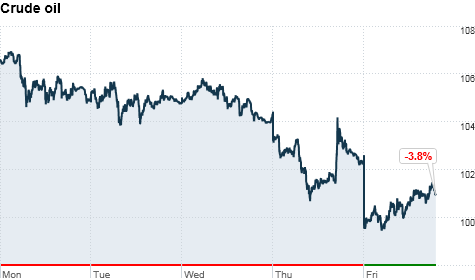 NEW YORK (CNNMoney) -- Oil prices fell Friday, briefly slipping below the psychologically important $100-a-barrel level, after a massive earthquake and tsunami struck Japan.
The main U.S. oil contract, West Texas Intermediate, for April delivery dropped $1.54 to settle at $101.16 a barrel. Earlier, prices hit a low of $99.01.
Brent crude, the benchmark European contract, slid $1.76 to $113.67 a barrel.
The most powerful earthquake to hit Japan in at least 100 years unleashed walls of water Friday that caused widespread damage and hundreds of deaths, although the final toll is not yet known.
Japan is the world's third-largest consumer of crude oil behind the United States and China. The nation consumed 4.4 million barrels per day of crude in 2009, according to the U.S. Energy Information Administration.
The tsunami sparked fires in at least 80 locations, including at an oil refinery in Chiba prefecture near Tokyo.
Meanwhile, the U.S. National Weather Service issued a tsunami warning for at least 50 countries and territories.
Tsunami waves were reported in Hawaii early Friday, with minimal damage. California and other Western states were bracing for waves along the coast, although officials do not expect significant damage inland.
The direct human and economic costs of the disaster could be significant, but it is too early to provide accurate estimates, said analysts at Nomura Securities.
Oil prices fell Thursday after economic data out of China raised worries that energy demand in the world's fastest-growing economy may be cooling. But the market regained some ground late in the day following reports that police in Saudi Arabia fired on protesters in the eastern city of Qatif.
Protesters were planning to hold a "Day of Rage" in Saudi Arabia on Friday, defying a government ban on all kinds of public demonstrations.
Oil prices surged above $100 a barrel last month as protesters in Egypt and Tunisia pushed out unpopular leaders. Prices rose even further as the unrest devolved into civil war in Libya, which has curtailed output in the Africa's third largest oil producer.
President Obama said Friday that he is prepared to tap the nation's strategic oil reserves to deal with any supply disruptions as part of his effort to keep gas prices under control.
But traders said the recent run-up in oil prices was driven largely by speculative investment, and that the market was due for a "correction."
"The market was extremely overbought," said Stephen Schork, publisher of the industry newsletter the Schork Report, adding that managed money accounts had long positions equal to six times the amount of oil stored in Cushing, Okla., a key U.S. port.
"We're seeing a massive technical correction lower," he said.
In addition, the dollar rose sharply against the euro and the pound, but remained weak against the Japanese yen. A stronger dollar often pressures prices for commodities priced in the U.S. currency, such as crude oil.
-- The CNN Wire Service contributed to this report.