Earthquake aid totals $25 million - far less than Haiti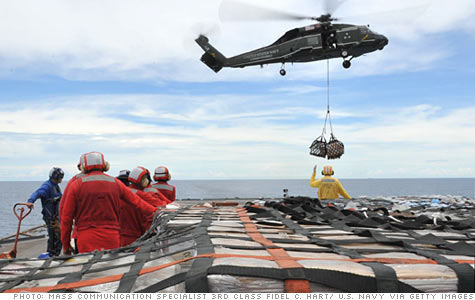 NEW YORK (CNNMoney) -- Individuals, companies and charities have been quick to rally in the aftermath of the massive earthquake that rocked Japan on Friday, but donations have been slow to come.
Donations to nonprofit organizations have reached about $25 million so far, according to an early tally by the Chronicle of Philanthropy, a newspaper covering nonprofit organizations.
That number is far below the first four-day totals of other recent natural disasters. More than $150 million was raised toward relief within four days of the crisis in Haiti, according to the Chronicle of Philanthropy. In the case of Hurricane Katrina, donations exceeded $108 million during the crucial first four days.
"Japan is not Haiti and it's not Indonesia, it's a developed country with a GDP somewhat similar to our country. It's not what people typically think of as a country in need of wide-scale international aid," said Daniel Borochoff, president of the American Institute of Philanthropy.
A heavy reliance on text donations could also be partly responsible for the low total, added Patrick Rooney, executive director of the Center on Philanthropy at Indiana University.
"Giving online and text giving is good because it's fast but text giving tends to lower what people would donate," he explained. "After giving $5 or $10 dollars, you are probably less likely to go back and write a check for $50 or $100."
Text donations accounted for $1.6 million of the $19 million the American Red Cross had raised as of 3 p.m. ET Monday.
Save the Children raised $2.5 million in the U.S. as of early Monday. Of that, $15,000 came in via text message. Meanwhile, branches of the charity in other countries have raised $500,000 more for relief efforts in Japan.
World Vision U.S. received $848,000 as of Monday morning, of which text-message donations totaled $8,200.
Mercy Corps received more than $500,000 as of Monday morning and the Salvation Army received $62,000 in cellphone donations.
International Medical Corps raised $11,830 via text message, the Chronicle reported.
But low donations do not necessarily set the tone of the global response, according to Stacy Palmer, editor of the Chronicle of Philanthropy.
"A lot of the nonprofits waited to see what Japan actually wanted and started their appeals later," she explained. "This slower reaction might mean that the money goes to the right places."
"As long as it's in the public eye, people will still feel compelled to give. There is still plenty of time," she added.
Separately, corporations have pledged about $51 million for disaster relief in Japan, according to the U.S. Chamber of Commerce. Some of that money may overlap with the Chronicle tallies, but much of it is additional fundraising that has been sent to international aid organizations, which the Chronicle does not track.
The largest donors corporate donors included Goldman Sachs and Mitsubishi, which each pledged $6.1 million; General Electric with $5 million; and Panasonic, Sony and Toyota with $3.67 million each.