Diller: Twitter, Groupon valuations are 'insane'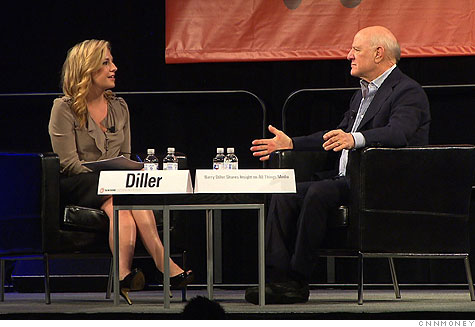 AUSTIN, Texas -- Groupon and Twitter aren't worth billions.
That's what IAC founder and chairman Barry Diller told a packed audience Monday morning at the South by Southwest (SXSW) conference. Those kinds of valuations "are mathematically insane," Diller said in an interview with CNNMoney anchor Poppy Harlow. "If there's a willing dumb buyer, that's OK. And some of them -- a very few of them -- won't turn out to be dumb."
The bubble question is much-buzzed-about at SXSW, which is a a magnet for digital movers and shakers. Some of its past breakout stars -- like Twitter -- have drawn funding rounds or acquisitions offers that give them eye-popping valuations. Asked if there's a new bubble forming, Diller answered: "Well, we're puffing it up pretty nicely."
Investing in Internet companies doesn't attract him, Diller said -- but creating them does.
"What interests me is starting businesses on our own, finding ideas that we can support, and simply investing in invention," he said.
Diller has sunk millions into building The Daily Beast, whose recent merger with the ailing Newsweek is a high-wire act in blending online and print media.
"I don't know if this experiment to fuse these two things together is going to work," Diller said. "We'll see in six or eight months." Reader interest will determine the experiment's outcome, he added.
Some experiments don't impress Diller. On Rupert Murdoch's closely watched iPad-only publication, The Daily, he said he finds the product itself interesting but doesn't see closed ecosystems like Apple's surviving in the long term.
"Until that gadget gets surpassed with others -- which will happen, though it doesn't mean they'll go away -- that closed system will work," he said. "Eventually, you're not going to have 32 closed systems. It does not make sense. One way or another, over time, these systems have to crack open and everything is ubiquitous on one, on all."
Though Diller did confess he's an iPad devotee, who has already snagged himself an iPad 2.
"People, me included, have a truly emotional thing about this iPad," he said.
Diller's wide-ranging comments touched on a variety of media issues, but he saved his most impassioned remarks to call for Net neutrality laws -- a cause he has long championed.
In front of a friendly audience of developers and online creators, Diller drew cheers and applause with his line: "We need an unambiguous rule -- a law -- that nobody will step between the publisher and the consumer, full stop."