Foursquare and its rivals try out Groupon's business model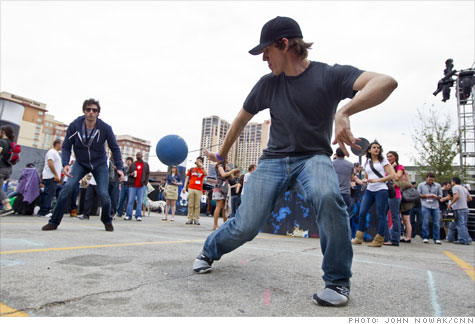 AUSTIN (CNNMoney) -- Location-based social networks Foursquare, Gowalla, and Loopt have collectively raised almost $50 million in funding from investors, and racked up around 13 million users.
Now it's time for Act 2: making those users pay off.
South by Southwest (SXSW) is the ideal testing ground for these so-called "geosocial" apps. With events every hour at the city's jammed bars and restaurants, show attendees often rely on check-in apps to find out where their friends are flocking. Last year, New York-based Foursquare and local startup Gowalla went head-to-head at SXSW in a battle for attention.
This year, they're using the show as a testing ground for business models. For inspiration, they're eying Groupon, the daily-deals wunderkind that reportedly has annual sales topping $1 billion.
Foursquare has in the past experimented with sponsored promotions and exclusive deals. At SXSW, it teamed up with American Express to offer card holders discounts at local merchants.
"We basically built a way for you to load deals onto your AmEx card," says Foursquare founder Dennis Crowley. "You sync your Amex card with your Foursquare account, and when you do that you start to see additional specials."
Spending $5 at a participating merchant automatically credits $5 to the Amex account. The program isn't generating any revenue for Foursquare, but could serve as a model for future business deals.
Loopt -- older than Foursquare, but with a smaller user base -- is also eying discounts and rewards as a way to monetize its members.
"I think the big trend with location is about value," Loopt founder Sam Altman said.
Like Foursquare, Loopt launched a feature that allows businesses to send location-specific offers directly to consumers' phones. The company didn't take a cut of the deals, but plans to on future promotions.
"The key for all of us is to provide a better experience of the real world," Altman says.
"We'll be successful to the degree we can make users' lives better/more interesting, and also based on how much we can increase the revenue of local businesses.
Gowalla also got into the discounts game at SXSW, launching its pilot test for Gowalla Rewards, another local-merchant daily-deals campaign.
Fine-tuning their core offerings is still critical for the geolocation services if they want to reach a mass audience. Just 4% of online adults use sites like Foursquare, according to a recent Pew Research Center study.
The companies hope they can increase that tally by enhancing their applications. Virtual prizes -- like badges advertising "achievements" such as checking in to 100 places -- won over early adopters, but the holdouts need more to lure them in.
At SXSW, Foursquare rolled out a new recommendations engine, drawing on the mine of data it has collected. Last year, the company -- which now has 50 employees -- recorded 382 million check-ins from its 7 million members.
"Every check-in that we do, every piece of information that we put into the system, we recycle back and we get smarter and help you figure out things in the city," Crowley said of the new feature.