California insurer backs away from 59% hike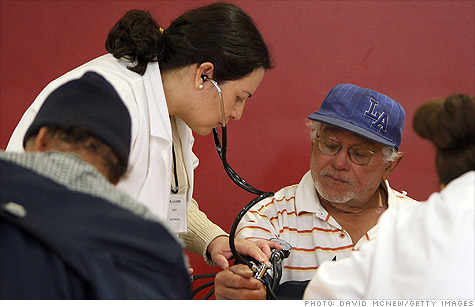 NEW YORK (CNNMoney) -- Nearly 200,000 Blue Shield of California customers can breathe a sigh of relief. The health insurer announced Wednesday it will forego a new round of rate hikes that would have brought the increase for some policyholders to as much as 59% in the past year.
Blue Shield -- which had already raised premiums twice since October -- also said it will not increase rates for any individual or family plan member for the remainder of the year.
Tom Epstein, spokesman for Blue Shield, said the company had seen some backlash in recent weeks.
"It was becoming a major distraction," he said. "So we decided we would risk losing money in order to get the attention of the public back on what's really driving up health care costs, and that's rising medical costs. Health reform, we believe, will help manage those costs."
Ioannis Kazanis, a spokesman for California Insurance Commissioner Dave Jones, said regulators were "a little surprised" by the Blue Shield's decision to back away.
"We are surprised because Blue Shield had agreed to a 60-day hold and our staff was working on our review of the rate increase," he said. "But Blue Shield announced this [decision to withdraw the increase] before we completed our review."
Health and Human Services Secretary Kathleen Sebelius said in a prepared statement that Blue Shield's decision was "good news for consumers."
"The high premiums that Californians have faced highlight why we need more transparency and accountability in the health insurance market," she said.
Just two weeks ago, Blue Shield, which had hired an outside expert to review its proposed rate before it implemented it, said the auditor found the rates were "reasonable [and] not excessive."
This implied that some Blue Shield policyholders would see a substantial hike in their premiums when state regulators completed their own review of the proposed rates within a 60-day period.
Blue Shield, one of California's largest insurers, triggered a backlash in January when it announced the third premium increase in a short span.
The company raised premiums in October. Due to changes in the law, Blue Shield again boosted premium rates for some policyholders in January.
Blue Shield said higher medical costs, greater use of medical care and a growing trend of healthier people dropping coverage during a bad economy, were the reasons for seeking the increases.
The increases would have affected 194,000 individual policy holders. The company's total of 3.3 million policyholders also includes those covered by small and large group insurance plans.
Epstein said the decision to not raise members' premiums this year will cost Blue Shield $35 million to $40 million in lost revenue.
"By agreeing not to raise rates this year, we are helping to make coverage more affordable for our members during tough economic times," said Blue Shield of California CEO Bruce Bodaken, in a statement. "It's a financial risk for us, but a risk that's worth taking."
Still, the company rakes in about $1 billion in revenue from its individual insurance market plans and a total of about $10 billion annual from all of its insurance products, according to Epstein.