Lincoln tops in vehicle dependability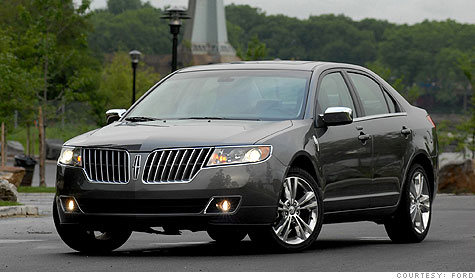 NEW YORK (CNNMoney) -- Ford's Lincoln luxury car brand scored No. 1 in dependability in the latest annual survey from J.D. Power and Associates, its first time in the top spot.
The survey asks owners of three-year-old cars how many problems they've had with their vehicles. The results are then tallied in terms of the problems per 100 vehicles.
Lincoln had an average score of 101. Toyota's Lexus brand, which came in second, had a score of 109. The average vehicle score was 151 problems per 100 vehicles.
The rate of improvement in dependability has slowed down in recent years. J.D. Power attributed that to increasingly complex vehicle technologies, including entertainment systems and tire pressure monitoring systems.
"As manufacturers add new features and technologies to satisfy customer demand and new legislation, they face the potential for introducing new problems," David Sargent, vice president of global vehicle research at J.D. Power, said in the announcement.
Besides Lincoln and Lexus, the top-ranked brands were Jaguar, Porsche, Toyota (separately from Lexus), Acura, Buick, Mercedes-Benz, Cadillac and Hyundai.
While domestic automakers Ford, General Motors and Chrysler Group have been improving, they have not yet caught up to the Asian competitors in making high quality cars.
Despite Lincoln's strong showing and two GM brands ranking among the top 10, domestic automakers did not perform as well in the survey, on average, as import brands.
However, domestic brands slightly outperformed import brands in J.D. Power's most recent Initial Quality survey. The Initial Quality survey measures the number of problems people have with vehicles in the first three months, and it tends to strongly predict performance in dependability surveys three years later.
That means the dependability gap between domestic and imported cars should close in the future.
The survey of 43,700 owners of 2008 model year vehicles was conducted in late 2010.