John Amend: The kingpin of luxury bowling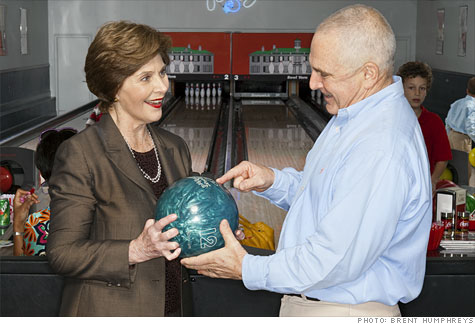 FORTUNE -- In the great, neon-lit rackety universe of bowling enthusiasts, there are some men who stand out from the rest. John Amend, a 62-year-old resident of Dallas, is among them. Amend caught the bowling bug 10 years ago, when he went with one of his sons to Showplace Lanes in suburban Garland, Texas, and rolled for the first time in 35 years. "That just ignited me," he recalls. Soon he was spending four or five nights a week at Showplace Lanes. He bought a pair of black Dexter bowling shoes. He purchased his own lane-gripping, reactive resin ball. Then he hired a bowling coach, overcoming a natural "chicken-wing" delivery to boost his average score to about 200 pins a game.
With that, most bowling enthusiasts might have been satisfied. Not Amend. His next step was to build his own bowling alley -- at his home. Amend's private four-lane bowling center, which cost $1.5 million, became a place for business networking, charity events, and celebrity appearances. Actress Glenn Close took bowling lessons there. Former Dallas Cowboys quarterback Troy Aikman rolled a few games. In January, George W. Bush and his wife, Laura, attended a bowling fundraiser at the Amends' home for their daughter Barbara's health care charity. The former First Lady even posed hoisting a 15-pound ball.
Yet Amend remains restless. He now harbors an even bigger dream: to revolutionize the world of bowling, which he believes has long been mismanaged and misunderstood. Amend's ambition is to create a sort of alternative bowling universe, where the well-heeled will go for a night on the town.
Given bowling's current demographic, this particular vision would normally merit little more than a chuckle. But Amend is a rich man on a mission. He has developed a business plan, created schematic drawings, even registered trademarks and website addresses. To be sure, reinventing the game won't be easy. But Amend has spent a lot of time thinking about it. "I've got an MBA," he declares -- "a master's in bowling administration."
By day, Amend is a highly successful commercial real estate broker, founder and CEO of the Amend Group. He rises at 4 a.m., wears monogrammed shirts and a buzz haircut, and favors La Tâche Burgundy. Trained as a CPA, he cut his teeth in the business with Trammell Crow Co. and the Staubach Group, run by former Dallas Cowboy Roger Staubach. When Amend left to start his own firm, the two men became archcompetitors; Amend even hired former Houston Oilers quarterback Warren Moon to counter Staubach's star power.
Amend made his fortune playing a wide-ranging role representing tenants, even providing in-house design and contracting services. His firm grew to 300 employees -- until the 2002 bankruptcy of WorldCom, his biggest client, forced Amend into a rapid downsizing. Today he is rebuilding the Amend Group to turn over to his two sons, who work in the business, while devoting much of his remaining time to bowling. Among the "specialties" he lists in his LinkedIn profile: "I'm a good bowler."
Amend's private bowling center sits on what was already the most famous residential property in Dallas: a $30 million estate called Mount Vernon, previously owned by Texas oilman H.L. Hunt. A replica of George Washington's home, the house is perched on 10 hilltop acres overlooking Dallas's popular White Rock Lake. Amend and his wife, Teresa -- who began dating as Dallas teenagers -- bought it from the Hunts in 2000. The property includes an 8,000-bottle wine cellar and an air-conditioned garage, where Amend keeps a collection of vintage Volkswagens.
Amend completed his '50s-style bowling center, housed in a new, 5,000-square-foot building, in 2004. Named Bowl Vern, it has state-of-the-art lanes, bumper guards, video scoring monitors, by-the-glass wine dispensers, full bar, a karaoke machine, a photo booth, black lights, an 82-inch high-definition TV, and a 500,000-song digital jukebox.
Since its opening, the Amends have held more than 400 events at Bowl Vern, many of them charity fundraisers. Amend also hosts a CEO league and a couples league. "His bowling alley's a lot of fun," says John Goff, CEO of Fort Worth-based Crescent Real Estate Holdings, whose company owns 35 major office buildings. "He uses it to connect with businesses in a very unique way. It's fun just to go over there and crank up the music and have a nice glass of wine."
Almost from his first visit to Showplace Lanes, Amend has hungered to jump into the bowling business. Even before Bowl Vern was built, he hired industry veteran Randy Little (whose dad was a touring pro and who had operated bowling centers himself) as his full-time coach and "director of bowling operations."
In May 2003, Amend and Little posed for the cover of Bowlers Journal International, a trade magazine, which excitedly explored the prospect that they were about to become "the sport's new kingpins." Hyperbolically described as a billionaire (he's rich, but not that rich), Amend mused about acquiring as many as 100 bowling centers within five years. That didn't happen -- because, Amend says, he concluded that the industry's existing business model, with tired properties, poor food, and limited service, was "broken."
Now he believes the "phenomenon" he's witnessed at Bowl Vern has given him fresh, bankable insight. "I'm seeing people get really excited," he explains. "People who don't bowl really want to bowl." Even among those who haven't bowled in years, says Amend, "the transformation from apprehension to euphoria was instantaneous."
Amend is hatching a scheme to replicate this sense of delight. His idea is to build a chain of private bowling centers, like country clubs for bowling. Members would pay an initiation fee, monthly dues, and user charges. There would be a wine cellar and an in-house chef to offer fine cuisine, a resident pro to provide lessons, and an event director to organize anniversary parties and business closing dinners. Amend envisions groups of urban professionals dining out at his lanes, toasting strikes with glasses of vintage Bordeaux.
Amend's bowling centers would have three separate banks of lanes so that singles, for example, wouldn't have to bowl alongside children. He says each two-story complex would cost about $15 million to build. He vows to break ground during 2011 for the first -- presumably somewhere in Dallas -- and bankroll the pilot center himself. He envisions a nationwide chain, with some bowling centers serving as anchors for residential communities.
As Amend sees it, they will be better than Facebook. "I believe there's this pent-up opportunity for social interaction that people really want, but there's no place they can go and get it. The opportunity to socially interact with other people is unprecedented in bowling. This could be the physical manifestation of the social-networking phenomenon!"
There are skeptics, even among the visitors to Bowl Vern. Remarked one Dallas private equity man after an evening's party: "Tonight was really fun. But if bowling was going to be a really big deal, it already would be." It's also important to note that Amend is basing his conclusions about the sport's potential on his experience of a highly unusual ecosystem: a private bowling center on a famous multimillion-dollar estate where guests don't have to shell out a dime.
But Amend is certain that he's really onto something. He has even conducted his own market research, sending out questionnaires to Bowl Vern guests asking them to explain what made their visits there so much fun. In his company's downtown Dallas office, Amend showed me a thick binder of testimonials.
One came from the wife of a retired technology company executive who had joined Amend's couples league with her husband. She offered the usual praise: for the tasteful, smoke-free environment; for the great food and fine wine; for the state-of-the-art sound system. Then Amend proudly showed me the e-mail that had accompanied her letter, in which the woman apologized for being too shy to mention what she really enjoyed about Bowl Vern -- "the great sex that [my husband] and I have after a great evening of couples bowling."
With that, Amend beamed. "If I can connect that experience with bowling," he told me, "I won't be able to build enough lanes!"
--Additional reporting by Doris Burke